Burning less fuel while moving more material was a key selling point for John Deere's unveiling of its 744 X-Tier wheel loader.
The 744X-Tier is new to the John Deere line of mid to large-sized hybrid E-Drive wheel loaders.
"We are introducing an electrified drivetrain component, specifically, an electric variable transmission in this machine that we anticipate has a lot of similar qualities to our 644 X-Tier and 944 X-Tier wheel loaders," said Luke Gribble, solutions marketing manager wheel loaders, John Deere Construction and Forestry Division.
He said the 744 X-Tier wheel loader is expected to be available in 2024. Gribble said the 824 X-Tier utility wheel loader also will be introduced at the same time.

"So not only are we bringing the 744 X-Tier to market sometime soon, but the 824 X-Tier will also join our fleet at that same time," he said.
For the 744 X-Tier in particular, Gribble anticipates one of the lead applications to be aggregates, whether it be working in a standard gravel pit in the bottom of a quarry loading trucks or at a ready mix or asphalt plant.
"We do anticipate that there's going to be a lot of interest from the aggregate sector with customers moving towards more solutions like this," he said. "That would be probably the target and we're expecting a lot of activity with this machine."
John Deere has been active with hybrid loaders since 2013 with the introduction of the 644K Hybrid wheel loader, which has since evolved into the 644 X-Tier.
Like its smaller cousin, the 944K Hybrid also has been rebranded as the 944 X-Tier to align with John Deere's performance tiering strategy.
"All our loaders that we used to call hybrids are now being badged as this X-Tier designation with the E-Drive systems, an electric drive system," Gribble said.
John Deere's E-Drive machines feature an electrified drivetrain with a diesel engine as the primary power source.
Gribble noted that the E-Drive machines like the 644 X-Tier, 944 X-Tier, and new 744 X-Tier, enable better fuel economy, improved powertrain component life, and stronger pushing power on the job than traditional models.
To date, via the available 644 X-Tier and 944 X-Tier machines, under their previous branding, he said John Deere has gotten nearly 3 million hours of service since they have been available.
For now, at its size class, the 944 X-Tier is the only model available to customers.
Gribble said the 744 X-Tier wheel loader is going through its final validation phase as all of John Deere's machines do to ensure they are hitting all the marks for what customers can expect.
It's a gas. . .sort of
The E-Drive is composed of a brushless electric generator that continues to be powered by the machine's more traditional diesel engine, which then sends a 3-phase AC charge to an inverter which delivers power to an electric motor based on operator demand.
Energy from the electric motor is converted back to rotational energy and torque in the final drive process.
Also, recycled, or excess energy is passively consumed through the two brake resistors that assist in maintaining reversal performance and engine over speed while coasting downhill.
"It's that transmission component that really makes this special," Gribble said. "There are two electric motors on that transmission along with an inverter. Those tools are what allow the machine to manage torque, power to the ground, and ground speed effectively."
In addition, he noted that different clutch ranges within that allow the machine to provide the power it needs with less input.
"Because it's got a direct power path from the engine to that transmission to the ground, it doesn't have to go through things like a torque converter, and that's where you get that efficiency gain and productivity increases," Gribble said.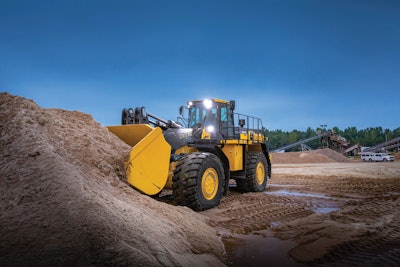 With the fuel cost savings, increased productivity, and potential savings in a rebuild event, John Deere is anticipating the overall total cost of ownership benefits to come from the X-Tier models.
"The electric components are some of the most reliable that we have out on the marketplace," he said.
All the electric components are designed to last the life of the machine and most only require an inspection, which now includes the electric cables, reducing the cost of a rebuild.
"The E-Drive brings big advantages when you're undergoing a rebuild event," Gribble said, noting that is a common event for loaders of this size class.
"Because you don't have a traditional transmission axle like a regular loader would have, those don't need to be replaced during that rebuild event.," he said. "You're just swapping out your motors, inspecting some of the electrical components, and refreshing the engine. That's a significant cost saving."
Gribble suggested that it could be as much as 50 to 60% of the cost of rebuilding a traditional loader.
Well technically
Standard features on the E-drive X-Tier loaders include traction control, coast control, multiple speed modes, and more.
The company says traction control automatically limits torque to any wheel when slippage occurs, eliminating runaway wheel spin and inherently increasing tire life. The aggressiveness of the feature can be adjusted by the operator, but its use requires no direct input.
Coast control gives operators the capability to adjust the aggressiveness of the machine during deceleration using the electric brake resistors.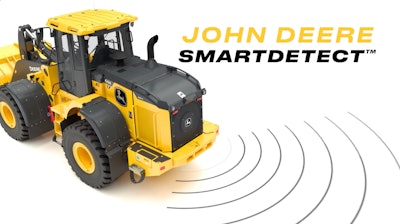 According to John Deere, three setting levels allow the operator to adjust the aggressiveness of machine deceleration with the use of electric brake resistors. When enabled, one pedal controls forward movement as well as dynamic braking.
The machines offer variable speed control as well.
Normal mode adjusts engine speed to match hydraulic and tractive load requirements. Comparatively, performance mode will run the engine at a constant engine speed, so the operator does not need to wait for RPM to increase.
Depending on the application, John Deere says running normal mode can match the productivity levels of a machine running in performance mode at a higher RPM while burning less fuel.
Other benefits specific to the X-Tier machines include rimpull control, which limits torque to the wheels on the ground when in soft or slippery conditions to avoid tire spin and slicing. The loaders also feature auto idle and auto shutdown.
The P- and X-Tier utility loaders also are being designed to improve overall operator visibility and awareness.
Select models can be equipped with new vision and object detection technology.
Object detection technology is paired with a high-resolution camera and a dedicated display. John Deere says vehicle trajectory logic technology overlays the projected vehicle reverse path to illustrate where the vehicle will move next.
The company says its advanced vision system integrates two digital cameras on the side-view mirror frames and gives an integrated view of all cameras for wider views and enhanced clarity.
SmartDetect combines cameras and machine learning to help give operators a better view of their surroundings. The system alerts operators when an object enters the machine's projected travel path and provides unique detection alerts for people in the camera's entire field of view. With SmartDetect Assist, the machines will automatically stop before encountering a person.
Another technology now available on the P- and X-tier utility wheel loader is SmartWeigh, a payload weighing to assist with increased accuracy, dynamic weighing capabilities, and ease of calibration when loading trucks.
The bucket weighing technology helps reduce boom raising and lowering. Bucket capture height can be set anywhere between 15%-90% of boom height and can be captured at any boom speed.
According to the company, SmartWeigh does not require calibration with a known weight, so customers can calibrate the system themselves. Also, the system integrates with the payload weighing data in JDLink telematics.
John Deere says the Auto Level technology feature offers near-perfect parallelism throughout the entire raise and lower cycle, plus or minus 2 degrees for new P-Tier and X-Tier wheel loaders.