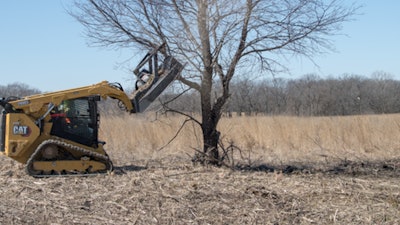 Paladin's new FD60 High-Flow Forestry Disk Mulcher is designed to reduce jamming while cutting through brush and trees, mulching and grinding stumps.
The mulcher for compact track loaders and skid steers features a wind-angle intake and a drive system that quickly recovers speed during cutting, the company says. A MulchPower Gauge shows when max rotational speed has been restored.
The FD60 is designed for felling trees up to 14 inches in diameter and can process those up to 8 inches. A dual-function push bar pulls trees in on the right side while grabbing trees on the left side. The FD60 can also grind stumps to grade.
The mulcher is equipped with Quadco Teeth and Solid Machined Quadco Disk. A Reinforced Debris Shovel gets under trees and logs to keep the edge teeth out of the dirt.
Debris projection is controlled by an adjustable deflector. The hydraulic system is protected from debris damage and has a bearing housing that does not require greasing.
"In conversation with our customers, we heard a lot of frustrations about jamming slowing them down and making their workdays unpredictable," says Justin Perkins, senior product manager at Stanley Infrastructure, the parent company of the Paladin brand. "We have solved this problem with the FD60, a seamless combination of sharp teeth, great hydraulics and tons of power."
Carrier machine requirements for the FD60 include universal skid steer mount; 30 to 45 gallons per minute of hydraulic flow; a minimum of 3,300 pounds per square inch of pressure (case drain required); and a minimum rated operating capacity of 2,600 pounds.
To watch a video of the FD60 in action, see below: