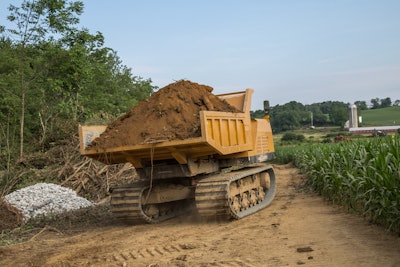 Morooka continues to expand its rotating crawler carrier lineup, with a model that the company says has the largest payload of any rotating tracked dumper built in the United States.
The new MST-3000VDR also represents Morooka's largest rotating crawler dumper built in the United States, the company says. It recently rolled out of the Japan-based company's plant in Ashland, Virginia, boasting a payload of 36,000 pounds. (The company plans to introduce an even larger rotating dumper next year, the MST-4000VDR, which the company says will be "the largest rotator on the market." It will be built in Japan, the company says, and have a payload capacity of 39,683 pounds.)
Morooka's VDR models all feature rubber tracks and an upper structure that can rotate 360 degrees in either direction independently from the undercarriage and tracks. "This helps users that want to reduce surface damage that occurs when turning the machine or users that have limited operating space," the company says.
The MST-3000 was developed after stream and wetlands restoration firm Rosscapes in Canonsburg, Pennsylvania, approached its Morooka dealer, Anderson Equipment, with a request for more capacity than the MST-2200VDR, which has a payload of 24,000 pounds.
Morooka says it enhanced the hydraulics and increased the power with a 300-horsepower Cat engine up from the MST-2200's 250-horsepower Cat. It also gave the new carrier a larger bed.
"All of this power and carrying capacity allows Rosscapes to move dirt nearly twice as fast," Morooka says.
The MST-3000VDR is currently only available by special order.
To watch a video of the MST-3000VDR, see below: