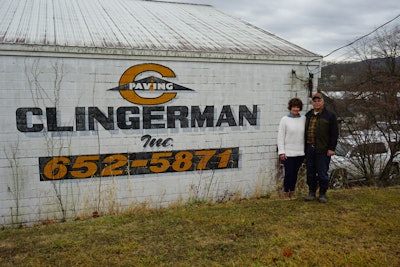 Marcia Doyle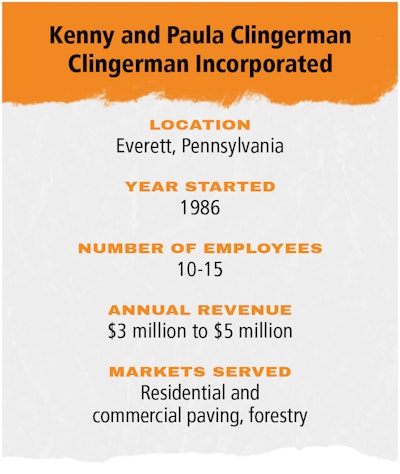 It's always been about family at Clingerman Incorporated.
Kenny Clingerman and his wife, Paula, head the firm; daughter Nathalie Imler runs the office, and son Taylor is in the field. Add Kenny's brother Daron and nephew Caden and you get a fuller sense of the operation.
Continuing a family tradition of self-employment, Kenny went out on his own in 1978, placing masonry blocks and running a small timber operation. Eight years later, he wanted to pave his driveway, but couldn't get anyone to give him a price.
A lightbulb went off. Encouraged by a friend who provided his first machines, Kenny and Paula went into the paving business in 1986.
"Every piece of equipment, we had to sit down and talk about it because we had to borrow money," Kenny says, adding with a chuckle: "Paula's job was keeping me straight and not letting me buy too much."
"Yeah, I'd be the one to say 'no,'" Paula agrees. "But after a while, I just said 'whatever,'" acknowledging the inevitable compromises of a 42-year marriage.
Clingerman Incorporated – which incorporates the family's paving, logging, saw mill and other operations – is housed in a 6,000-square-foot facility on the outskirts of Everett, Pennsylvania. In addition to its construction and logging entities, the entrepreneurial family has operated the well-known ice cream shop The Igloo for more than 20 years. Paula also runs a gift shop in a renovated 1818 inn outside of Everett. The company is one of 12 finalists for Equipment World's 2023 Contractor of the Year.
Two sides of one coin
Spring and summer, Clingerman crews are paving driveways and commercial parking lots. During the fall and winter, their focus shifts to logging.
"Clingerman is unique in that they are successful in two completely different lines of work," says Ryan Enck with Cat dealer Cleveland Brothers, which has provided them with equipment for both sides.
This also means Clingerman crews are multitalented, running pavers in the summer and logging equipment when cooler temps arrive.
The dual nature of the business kept it going during the pandemic, since logging was considered essential while driveway paving was put on a small pause.
"The guys never got laid off," Kenny says. Then in 2021, the business picked back up again.
"2021 was unreal," he adds. "We were doing so many driveways. People were home or got a little extra money. We were worried we weren't going to get it all done."
2022 had its own complications: while clients were waiting for driveways, the price of asphalt skyrocketed, costs that had to be reflected in final prices.
The Clingerman forestry operation is full scale, from cutting, delimbing and transporting trees, to milling. Two core products are firewood and railroad ties.
The company is currently working on a 322-acre Pennsylvania Game Commission property, cutting around trees marked for saving, and transporting the delimbed logs back to their milling operation. Each year they bid on logging rights to properties.
"We cut six to seven trailer loads a day," Kenny says.
Keeping things going
After graduating from Penn State in business marketing, Nathalie started working at the firm. "It's a lot to keep things going," she says. "You realize how much money is involved in everything; how much is behind the scenes."
"I don't see many faces, but I talk to a lot of people," Nathalie says. "You've got to keep the communication going on everything, because when they're ready to get their job done, they want it done now. It's a big deal."
Kenny chimes in: "I get a lot of compliments about her. She never leaves them hanging."
Kenny's son Taylor has been with the company officially since after high school, but "I was with him since I was 5-years-old, riding on the backhoe," Taylor says. "I was always around the equipment and helping him do whatever." This early environment provided direction. "This is all I ever wanted to do," he says.
The family part of the business extends to Nathalie's husband, Eric Imler, who has his own excavating company. If there's a job that calls for earthwork or utility line placement, the company turns to Eric.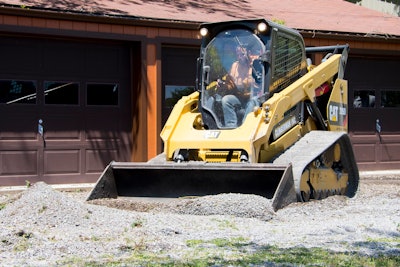 Change in philosophy
Clingerman has changed its equipment philosophy, switching from mainly used equipment to buying new for key production units. "When we started buying new equipment, we started to turn a profit. It's the way to go because working on that old equipment was crazy, and it was always something."
He adds: "There's just no comparison. Before, we would have spent eight hours putting down a driveway, where now we're doing them in two and a half hours. Everything just goes better."
Nathalie agrees: "Things go smoother with the new equipment. I just feel things have gotten better. When you have new equipment that runs every day, you just keep moving. As long as we keep moving and working, we're good."
The newer equipment also produces a better-quality job. "That's the big thing in a small town like this," Kenny says. "You do one bad job, and everybody hears about it, but you do 100 good ones, and no one hears about it."

Intense equipment discussions
The Clingerman fleet includes dozers, crawler loaders, pavers, skid steers, backhoes, compact excavators and a variety of logging equipment, including skidders and log loaders. "We have more than 50 pieces of equipment ,and there was probably a big discussion on every one of them before we bought them," Kenny says.
The company typically hauls an entire paving fleet on one trailer: paver, skid steer and two rollers. Working within a 30-mile radius, most jobs are done in a day. "The skid steers have been really good," Kenny says. "We bought one, and right away we bought another one."
Clingerman ventured into providing trucking services along the way, but now only has trucks that serve the company's needs. "The trucks were good, but we could not make a profit," Kenny says. "The tolls and fuel kept going up. It's a tough business."
Loving what you do
Kenny believes in loving what you do. "You have to want to do it," he says. "You get up in the morning and can't wait to get on the job to do it. If you don't have that feeling, don't do it."
"He's on every jobsite, and he talks to every customer," Nathalie says.
This hands-on approach gives Kenny the ability to tell if someone's serious or just curious. He can also tell if they've already got a price off a competitor. He enjoys the entire process.
That enjoyment is evident to his customers. "Kenny is very knowledgeable during the bidding process, listening to all our concerns and providing us with a bid on the spot," says client Jon Yerty with Yerty's Auto Service. "His equipment was in extremely good shape, but even their older equipment represented their equipment well. They're a high-quality contractor."
Still, Kenny has no illusions about the nature of the work. "When you're doing a driveway, it's hard work. You have to work hard – I mean hard."
Kenny, 65, still loves the day to day. "I don't see him slowing down," Nathalie says, "because he likes what he does." Kenny nods in agreement. "There's Monday mornings I can't wait to get over here and get going because I took off a half a day Sunday," he says.
"It's just a way of life around here," Taylor chuckles. "We just work."
As for the future? "Keep on doing what we're doing and stay true to ourselves," Nathalie says.
"I'm grateful it's in the family, and our daughter and son are a great asset," Paula says.
"Do to other people what you'd want them to do to you," Kenny says. "It's just that simple."