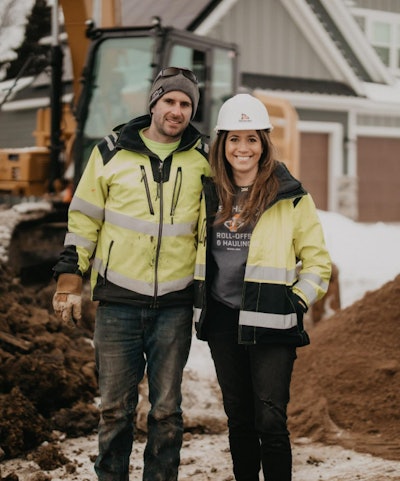 Equipment World
When Trevor and Missy Scherber met in 2013, it wasn't only a meeting of the heart, but the entering a new phase of T. Scherber Demolition & Excavating and its sister company T. Scherber Roll-Offs.
Trevor had taken over his brother's roll-off company in 2009, "but I always wanted to go into demolition and dirt work," he says, an ambition born when his father, who was a developer, put him on a skid steer when he was 4 years old.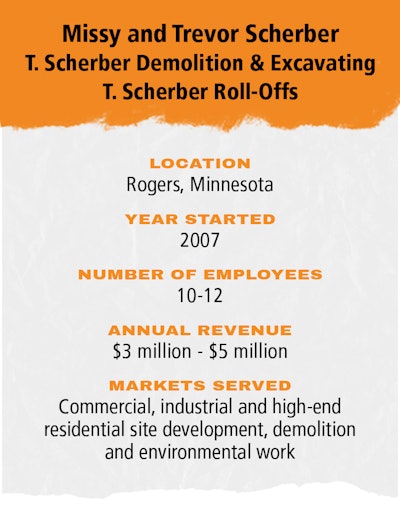 Trevor's early ambition was put into overdrive after he and Missy married. He began to do residential demolition and excavation work.
"When I visited the jobsites, I was just so intrigued by what he was doing," Missy recalls. "But then I visited his office, and there were stacks of invoices and mail and bills. I told him, 'You need support to make this happen.'"
At the time, though, Missy had what she describes as her "dream job." She was a major donor officer for Urban Ventures, which offers career support for underserved communities. But the couple realized that if Missy came on board at T. Scherber she could apply those same business skills to leading and growing the company. And they would still be able to support the causes they believed in.
"As a company, we can make a much bigger difference," Missy says, "not just in writing a check but in the value we add to the families that work for us. When you're the decision maker you can drive so much change."
Integrity in construction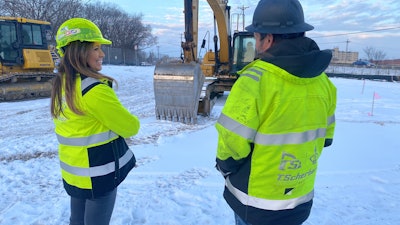 The two are passionate about the "integrity in construction" slogan that appears under the T. Scherber logo. "The word 'integrity' is powerful," Missy says. "It's doing the right thing on and off the site, in the way we communicate and the way we serve our customer."
Missy and Trevor have set their sights on changing both the perception and the diversity of the construction industry. While Trevor focuses on executing with excellence onsite and innovation with the latest equipment technology, Missy reaches outward, looking at "how do we make a difference with our business," she says.
This includes creating a more diverse industry. "We're starting to transition to downtown Minneapolis/St. Paul work, and I'd love to build a bridge with the community around us," she says.
"The opportunities are way bigger in our industry," she continues, pointing out that it can take much longer to get to the top in a corporate job. "If you're talented, you'll get there much faster in a small to midsize construction firm."
She also has a deep appreciation for today's workforce. "When I was exposed to the stories of construction, the men who have been working at it for 30, 40 years to provide for their families, I was inspired to work my tail end off," Missy says. "They are the unsung heroes."
"Huge potential"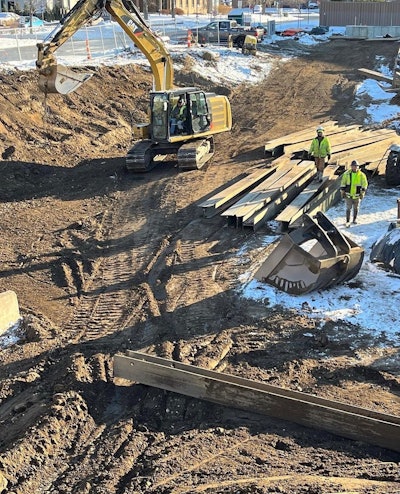 Their efforts are getting noticed. "Trevor and Missy are two of the hardest working people I know," says Bobby McColloch, senior estimator with RJM Construction. "They are a great company with huge potential."
Missy assumed presidency of both companies in 2015, and in 2020 the companies attained WBE/DBE and SBE status in Minnesota. T. Scherber has maintained a 25% average growth rate during the past five years.
"We haven't had a hiring problem because we've been so active online and because our team are great recruiters," Missy says.
Starting out in high-end residential work, T. Scherber's current sweet spot is small to midsize commercial and industrial site development jobs. It moved into new offices in 2021, a 10-acre homestead in rural Rogers, Minnesota, right on top of Missy giving birth to their second child, her fourth.
The many unknowns created by the pandemic prompted Trevor and Missy to double down on sales. The two also relied on Missy's involvement with the local Association of Women Contractors. "They really went to bat for their members and introduced us to several GCs," Missy says.
She gives credit to the "amazing women" of the AWC for providing both help and a vision. "It gave me a path to what was next for us," Missy says.
While Missy concentrated on business development, Trevor and the field team focused on delivering projects as promised. "They do the hard work every day that makes our customers keep coming back," Missy says.
Mentoring
Trevor and Missy are in the mentor/protegee Construction Partnering Program with Nick Frattalone, CEO of Frattalone Companies, a 50-year-plus civil site contractor based in St. Paul, Minnesota. "Nick has been very intentional," Missy says. "He wants to see us grow the right way."
The three meet once a month and go through business and field best practices. Frattalone also makes his team available to help T. Scherber address specific areas. "The mentorship is focused on how to be an effective, productive, profitable company," Missy says. "It's been incredible and truly helped us build a more structurally sound business."
Re-evaluating rental
T. Scherber's mentorship with Frattalone is opening Trevor and Missy's eyes to renting equipment, which they had dismissed as too expensive. "We've learned that monthly rentals can make sense on bigger jobs and ensure a piece of equipment is going to be utilized before purchasing," Trevor says.
The company has a fleet of excavators, skid steers, compactors, a dozer and quad-axle trucks. Trevor buys used excavators with about 2,000 hours on them and disposes them at around the 14,000-hour mark.
The company buys dozers and skid steers new, however. "It's hard to find a used dozer that I'm 100% happy with," he says. "Either the pads are worn or there are dents in the blade, so dozers are a different animal. And skid steers are worn out after 2,500 hours."
Expanding the vision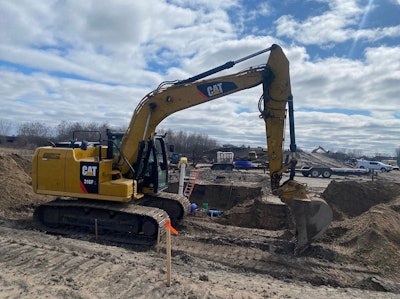 Missy has a knack for growing an online audience. T. Scherber is active on Instagram and LinkedIn, and Missy has made numerous industry social-media presentations. She is also co-hosting a Women in Construction Leadership podcast.
Trevor, who has an ingrained entrepreneurial spirit, knows that the company's growth will take him out of the operator's seat, something he enjoys. "It's just not good for business if I'm the one operating every day," he says. "Doing 18 hours a day is just not sustainable.
"I'd like to build a legacy company and see how far It can go."
"We want a company that outlasts us, that's there for our team and their families," Missy adds. "This work is too hard and rigorous to not build something."
To that end, T. Scherber invests in innovation and technology. For example, the company uses BusyBusy for time tracking and GPS location and is implementing its cost code feature. It's also been a beta tester for the company's new progress tracking. Crews upload job photos to track progress and keep customers informed.
"Part of our brand promise to our customers is that they will hear from us," Missy says. "They'll know where we're at on the job, get a progress report, and know what we spent. It just makes us better and sets us apart."
"I think that they could teach integrity, first and foremost," says Barb Lau, executive director, Association of Women Contractors. "They walk the walk in making sure they are building an inclusive team and partnering with other small businesses."
"They want to give back," continues Lau. "Missy wants to continually make a difference, not just selfishly for her business but for her community. This business is one to watch."
"They are taking what is a very hard industry and humanizing it and treating people with respect and dignity – from employees to customers," says George Trujillo, senior project manager, Doran Companies. "They are a breath of fresh air."
The Contractor of the Year program, which has been sponsored by Caterpillar since its inception, recognizes contractors who display the highest standards of business acumen, equipment management expertise, attention to safety and community involvement. Each year, 12 finalists receive an expense-paid trip to Las Vegas to participate in roundtable discussions and an awards ceremony. To be notified when the 2024 nomination period opens, click here.