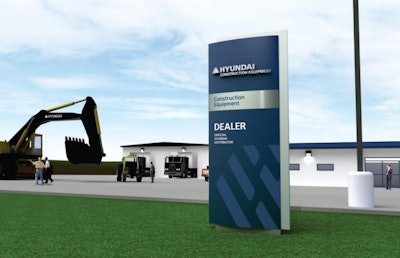 As part of its transition from being a division of Hyundai Heavy Industries to being part of a stand-alone business focused on construction equipment, Hyundai Construction Equipment Americas is unveiling a new look for its North American dealers.
The new signage program incorporates what HCEA calls a "more streamlined version of the company's logo, as well as a new graphic element that uses stylized letters to represent crawler tread marks," says the company. These graphic changes as of now will not appear on Hyundai machines.
The dealer rebranding is aligned with HCEA corporate objectives. "Our upper management is focused on growing its share of the construction equipment market," said Corey Rogers with HCEA during remarks made at ICUEE. "We have aspirations of being a top five worldwide manufacturer of construction equipment by 2023, so there's a lot of push for us to grow."
HCEA now has 75 dealers and 150 dealer locations in North America.