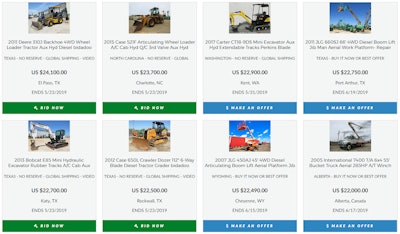 Bidadoo, an online construction equipment auction firm, reports a 50 percent increase in sales growth for the first half of 2019 when compared to the same period last year.
Part of the growth has come from an increase in construction equipment manufacturers and rental companies using the online auction service to sell equipment coming off rental fleets and leases, the company says. The increased sales activity has also resulted in a 20 percent average selling price over 2018, the company reports. Companies using the service include JCB, Case, Genie, Terex Utilities, Herc Rentals, Sunbelt Rentals, Takeuchi and Atlas Copco, according to Bidadoo.
The company also reports a boost in international auction sales through its partnership with eBay, with growth in Canada traffic of 200 percent and Mexico traffic of 75 percent.
Here are some Bidadoo sales highlights for the first half of 2019:
2014 John Deere 350G LC Excavator – Sold $237,636 to Saskatchewan, Canada
2014 John Deere 770G Motor Grader – Sold $112,600 to New Zealand
2015 John Deere 772G Motor Grader – Sold $210,000 to California
1999 Caterpillar D8R Dozer – Sold $92,000 in Mexico
2015 John Deere 750K LGP Crawler Dozer – Sold $113,100 to Texas
2017 John Deere 544K-II Articulated Wheel Loader – Sold $100,100 to New Hampshire
2004 Terex Pegson 4242SR Impact Crusher – Sold $108,000 to New York
2014 John Deere 672G Motor Grader – Sold $115,600 to New Zealand
2005 Caterpillar 330CL Excavator – Sold $47,500 to Singapore
2007 JLG 1350SJP 135′ Articulating Boom Lift – Sold $53,700 to Taiwan
2015 John Deere 850K LGP Crawler Dozer – Sold $110,300 to Alberta, Canada
2013 John Deere 750K Crawler Dozer – Sold $78,000 to Puerto Rico