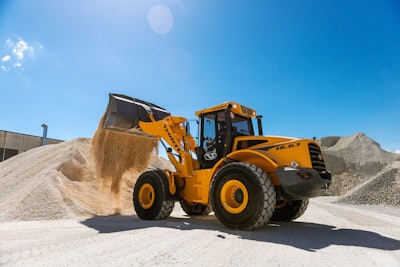 SnowEx's new Power Pusher snow pushers deliver cleaner scrapes
SnowEx has introduced new snow pushers for skid steers, compact track loaders, wheel loaders, backhoes and tractors.
The latest Power Pusher snow pushers are available in 8- and 10-foot-wide models and feature new steel trip-edges that SnowEx says deliver "maximum scraping performance" and cleaner scrapes of the pavement.
To read more, click here.
---
Vermeer's D23x30DR S3 Navigator merges rock drilling with compact size
Vermeer's new D23x30DR S3 Navigator horizontal direction drill provides a compact machine for drilling through rock in congested areas and tight spaces.
At 16,500 pounds, the company says it is the lightest rock drill in its class, designed for fiber, electrical, gas and water utilities installations in hard rock and other challenging ground conditions. That light weight helps reduce the risk of damaging sidewalks or turf, the company says. The drill also boasts an operator ear noise level of 83 decibels.
To read more, click here.
---
Dynapac upgrades commercial paver series with new engines, screeds, controls
Dynapac has released the second generation of its commercial class pavers, with upgraded engines, controls and screeds.
The three models in the new lineup are the FC1700C, FC1400 II and FC1300 II.
To read more, click here.
---
John Deere updates 344L compact wheel loader with high-lift option
John Deere says that it's 344L compact wheel loader is now available with a high-lift option for jobs that require further reach and increased height.
Designed for dumping and stacking in construction, agricultural material handling, landscaping and snow removal tasks, the 344L High-Lift is provides operators with increased hinge pin height and dump clearance, says Deere marketing manager for compact wheel loaders Grant Van Tine.
To read more, click here.
---
Venieri intros heavy-duty VF18.63B wheel loader to U.S. market with 40 degrees of articulation
The new Venieri VF18.63B wheel loader delivers 40 degrees of articulation for working in tight areas and a lift capacity of 28,374 pounds.
The Italian-made loader is being offered by importer and distributor Applied Machinery Sales (AMS) of Rock Hill, South Carolina.
To read more, click here.