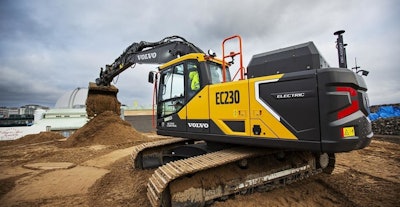 Volvo Construction Equipment
Volvo Construction Equipment reported an increase in sales for the last quarter and the full-year 2022, thanks to strong demand in North America.
The company saw a 27% net sales increase during the fourth quarter of 2022 to SEK 27,596 M ($2.6 billion) compared with the same period last year.
While all markets saw an increase in machinery sales, North American sales rose 54%, driven by strong activity in the infrastructure segment and favorable commodity prices, Volvo says.
Most Asian markets experienced continued high demand for commodities, partially offset by lower construction activity in key markets such as South Korea and Thailand. And despite an economy that has been dragged down by strict Covid-19 lockdowns, China sales were boosted by the introduction of emissions regulations on December 1.
In South America, the overall market in Q4 was impacted by a slowdown of investments in Brazil.
Despite signals of a weakening business climate, the European market remained steady.
For the full year 2022, net sales rose 9%, totaling SEK 100,261 M ($9.5 billion). Adjusted operating income for the full year amounted to SEK 13,244 M ($1.2 billion), with an adjusted operating margin of 13.2%.
Volvo's global net order intakes declined 23% in Q4, the result of restrictive order slotting caused by large order books and long lead times in North America and Europe, as well as stopped sales in Russia.

During the fourth quarter, Volvo CE introduced its collision mitigation system for wheel loaders, as well as a large-scale investment into its facility in Braås, Sweden. The Braås plant will be adapted to produce a larger range of articulated haulers with different types of powertrains, including electric.
"We continue to take steps in our transformation journey – continuing to deliver reliable, efficient and more sustainable solutions fit for our customer's needs today, while driving investment across our business towards our fossil-free future," said Melker Jernberg, president of Volvo CE.