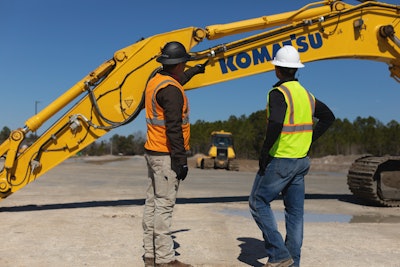 Komatsu
Despite supply chain disruptions and increases in material prices and logistic costs, Komatsu saw net sales and operating income reach record highs on new equipment, parts and services in the first nine months of the current fiscal year, which ends March 31, 2023.
The Japan-based company cited increased selling prices and a weaker yen for the increase. However, as the yen appreciates more than expected, the outlook for construction equipment demand is becoming increasingly uncertain in Europe and the U.S.
For construction, mining and utility equipment, Komatsu sales increased by 28.4% year-on-year to 2,363.2 billion yen. Sales were up in all regions, except for the Commonwealth of Independent States (CIS), which includes Russia, Ukraine and former USSR-member countries, and China. The company said there were particularly sharp sales increases in North America, Asia and Latin America.
According to company officials, sales increased mainly due to the positive effect of foreign exchange rates, increased volume and improved selling prices.
Takeshi Horikoshi, chief financial officer, said that in the third quarter, sales volume was actually a little lower than expected. "This is not about demand. It's more about the supply chain, which had an impact, especially in North America, Japan, and Komatsu Mining Corporation ," he said. "Volume was lower than expected, especially for original equipment. Therefore, in terms of sales volume, we underperformed. But foreign exchange gains helped, and part sales overachieved, meaning that there was a product mix gain."
Ultimately, total global demand for Komatsu's fiscal 2022 Q3 was down by 6% year-on-year.
Masatoshi Morishita, senior executive officer, said that when excluding China, demand decreased by 5% year-on-year. He said China's market conditions are sluggish, and demand continues to decline. He added that demand increased in North America and Europe but decreased in Japan, Southeast Asia and other regions.
"For fiscal '22, we expect overall demand to remain flat year-on-year, while demand in regions other than China is expected to be 0% to plus 5%, unchanged from the April 2022 forecast," Morishita said. "However, the projection for each region has been partially changed in light of current conditions and other factors."
According to Komatsu, the demand trends in North America increased by 1% in fiscal 2022 Q3 on a year-over-year basis.
Morishita noted that demand for infrastructure and rental increased, and business with energy customers was firm. However, demand for residential and nonresidential construction declined, resulting in overall demand remaining at the same level as the same period last year.
"Supported by improved selling prices and the Japanese yen's depreciation, sales made a substantial gain from the corresponding period a year ago," Morishita said, noting that in Latin America, demand for construction equipment began to slow down in the third quarter, while demand for mining equipment remained flat from the corresponding period a year ago.
"We expect demand to continue to trend at high levels, but we will continue to monitor future trends closely as residential and nonresidential demand has begun to decline," he said.
Price increases are expected to continue into 2023.
During the financial review in October, Horikoshi noted at that time that one of Komatsu's competitors, Caterpillar, had increased its prices from April to October by 15% compared to Komatsu's 4.4% increase. "It possibly indicates we still have room for further price increases," Horikoshi said.
However, he further noted that for Caterpillar, North and Latin America account for 58% of its total sales, while it represents 42% for Komatsu.
"Caterpillar has a wider area where price increase is easier," he said. "The price increase for the full year, expected for this year, is about 3.6%, and for the next year, we have to increase the price by a similar margin as this year."
"Next year, cost increases will be more moderate than this year," Horikoshi added. "Considering the shortfall of this year, we need to take some price increases."
Morishita acknowledged he was not overly optimistic about fiscal year 2023, especially in North America.
"We do not expect any material negative factor, but the housing and non-housing demand have been declining," he said. "How they can be offset by energy and other demand, that is what we are examining in making the business plan for FY 2023."
Customers appear to be starting 2023 with a high volume of work. However, supply chain challenges continue to impact contractors in North America and Europe.