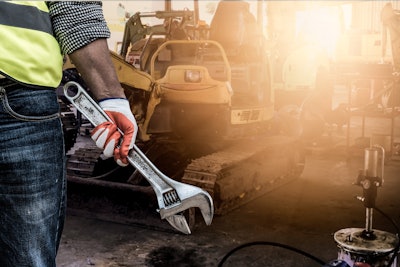 Getty Images
The ever-growing heavy equipment technician shortage is a problem poised to get a lot worse before it gets better.
According to a 2020 AED Foundation industry research report, the equipment distribution industry may need to fill as many as 73,500 heavy equipment technician positions by 2025. In addition, the report stated the equipment industry has a job opening rate three times higher than the national average. Among survey respondents, 95% agree there is a skills gap in the industry, with 89% reporting a shortage of workers in their company.
Association of Equipment Manufacturers (AEM) Senior Director of Workforce and Industry Initiatives Julie Davis doesn't want to suggest the widespread technician shortage can be quickly addressed, let alone easily solved. However, she says equipment dealers and distributors can adopt short-term and long-term strategies to position themselves for lasting success related to workforce development.
Here are a few of Davis' recommendations:
Focus on Culture to Improve Retention
Workplace culture can have a significant impact on retention. Employers can start by implementing the following practices better to understand the impact of culture on technician retention.
Conduct exit interviews: Technicians exiting an organization within the first six months could indicate an onboarding problem, while technicians leaving between 2.5 and 3.5 years could indicate a lack of development or advancement opportunities. Have a manager and human resources representative conduct exit interviews separately, as each position will likely elicit different responses from the departing employee.
Conduct staying interviews: Talk with staff in key positions about their individual experiences to shed light on missed opportunities or future red flags. Engaging in staying interviews can be particularly helpful in the first 12 months to understand the onboarding experience and how new employees feel about the existing culture within the company.
Start by creating a culture check-in by surveying all employees. What changes can be made based on all the information learned?
And remember, to those companies who aren't currently acting on employee feedback being received, asking for additional input can (and likely will) negatively impact culture moving forward.
Consistently Fill the Talent Pipeline
While it takes time to secure a return on investments of time, effort and resources to fill an organization's talent pipeline, it's worth it to ensure a consistent flow of qualified candidates.
The hard truth is that contacting the nearest local technical college once or twice a year isn't enough to attract and acquire talent. Dealers and distributors should regularly engage with educational institutions, participate in educational review committees, get in front of students in classrooms and donate necessary equipment to schools and training facilities. More than anything else, Davis says do what it takes to be top of mind when these schools begin looking to place their best students. It will pay dividends over time.
In addition, dealers and distributors should connect with high schools that feed into technical college programs. If your local high school does not offer technical courses, introduce administrators to the free high school technician curriculum offered through Curriculum for Ag Science Education.
It's not just an ag technician curriculum, but rather a program that introduces the technician career path and improves industry perception among parents, teachers, and students. As a bonus, industry connection points are baked into the program through a used parts collection program and organized classroom visits.
Technician program partnerships, apprenticeships, job shadowing or any other work-and-learn program are the most effective way to connect with new workers. And, ultimately, partnering with education is critical for retention, as technicians require ongoing training and development.
Diversify and Optimize Recruitment Strategies
Want to really move the needle when it comes to acquiring talent? Davis says you must do the following:
Actively recruit women and minorities.
Change the way job postings are written and where they are being posted.
Check language in job postings via a gender decoder website to determine if it's overly masculine.
Target locations and events where someone with the skills, interests, and hobbies of workers the organization wants to replicate might be out and see if the openings can be posted.
Learn more by reading Equipment World's 27 Ways to Attract and Retain Equipment Technician Talent and Chris Czarnik's Winning the War for Talent.
Industry Collaboration
To combat the technician shortage, AEM's Workforce Development Committee has created a technician taskforce. The taskforce will create examples of survey questions, stay interview questions and other best practices from industry peers.
AEM is also partnering with, and supporting the work of, AED Foundation. By 2025, the Foundation aims to reach the following goals: 100 accredited college programs, 50 recognized high school programs, 10,000 skilled technicians entering the workforce, 500 certified managers, 10,000 tests administered, and 5,000 certified technicians.
Additional workforce development resources are available through AEM's Workforce Solutions Toolkit.