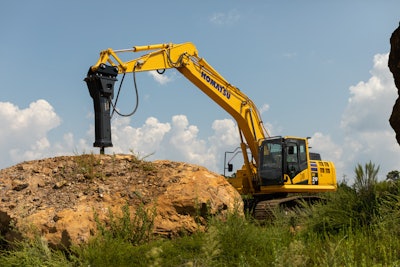 Komatsu
Komatsu dealer Linder Industrial Machinery has completed the purchase of Fayetteville, North Carolina-based Cumberland Tractor, expanding its footprint to 20 locations in the Carolinas and Florida.
"We look forward to growing the great reputation and contributions that Cumberland Tractor has made to this community over the past 65 years," says John Coughlin, president and CEO of Linder.
Four of Linder's 20 branches - Fayetteville, Greenville and Greensboro, North Carolina and a branch in Bradenton, Florida - will now represent Kubota equipment under the name "Linder Turf & Tractor." The branches will also carry the full line of Komatsu and BOMAG heavy equipment and complimentary products and attachments.
"I have had a long relationship with Linder and even a longer one with Komatsu. The combination of all this top-quality equipment under one roof has been my dream for many years," Jack Horne, owner of Cumberland Tractor said.
Linder employs more than 600 people in three states; 2023 marks its 70th year in operation; the company has been in the Carolinas since purchasing Mitchell Distributing Company in 2003.
"Our customers have always benefited from our dealer network," said Coughlin. "We are the number one Komatsu dealership in the United States and now have four Kubota stores; this gives us advantages over smaller dealers. We can offer the people of Fayetteville a greater variety of equipment and get machines faster than others."
Case Power & Equipment of Pennsylvania Joins Case CE Dealer Network
Part of the Alta Equipment Group, Case Power & Equipment of Pennsylvania, has joined the Case Construction Equipment dealer network. The dealer will initially service the Pittsburgh, Pa., area through locations in Cranberry Township (home of the former Case dealership) and Delmont, with future plans to expand to Central Pennsylvania.
Terry Dolan, vice president, North America, Case CE said, "As industry leaders, Alta Equipment Group has deep experience providing contractors with equipment and solutions they need to succeed. We're excited about our future and partnering together to show Central and Western Pennsylvania contractors that no one will outwork us to earn their business and trust."
Both locations are set to open in the first quarter of 2024. They will sell and service the full lineup of Case heavy, compact and subcompact equipment and attachments, as well as its complementary services, including financing, maintenance, telematics and parts support.
"Case is a premier brand and we're proud to join the ranks of their outstanding dealer network," says Gianni Campo, president, Alta Equipment Group. "I have a fond spot in my heart for Case– the first piece of equipment I operated was a Case 450 tractor loader. To be part of the resurgence of this legacy brand is exciting for me personally and for Alta. We can't wait to service contractors in the Pittsburgh market."
Hyundai Expands North American Dealer Network
HD Hyundai Construction Equipment has added several new dealers to its North American sales and service network, including Newlons International Sales, Elkins, West Virginia; Agri Center, Hutchinson, Kansas; and an expansion of Taylor Construction Equipment's territory in Mississippi and Kentucky.
Newlons will represent the full line of Hyundai construction equipment products throughout northern West Virginia. In addition to its main location in Elkins, Newlons operates a second facility in Bridgeport, West Virginia. The company plans to add additional locations throughout the state.
With the exception of the Kansas City metro area and several counties in the northwestern and southeastern corners of the state, Agri Center will represent the full line of Hyundai construction equipment products throughout Kansas.
Taylor Construction Equipment, a division of the Taylor Group of Companies, Louisville, Mississippi, became a Hyundai dealer in 2021, with locations in Mississippi and Tennessee. Earlier this year, Hyundai granted an expansion of Taylor's original territory to include parts of Indiana and Ohio. Its new territory services a 42-county section of Kentucky including the Louisville and Lexington metro area, and 13 additional counties surrounding the Jackson area, not included in its original Mississippi territory. Taylor now represents all but six northern counties in Mississippi with the full line of Hyundai equipment.
BOMAG Americas Names McCann Industries as New Full-Line Dealer
Addison, Illinois-headquartered McCann Industries, Inc. has signed on as a new full-line Bomag equipment dealer for its multiple branch locations in northeastern Illinois and northwest Indiana.
McCann will sell, rent and service BOMAG's light equipment, complete range of asphalt paving, compaction and milling equipment, and soil compaction equipment and technology.
"We are excited to welcome McCann into the BOMAG network. Their experience, outstanding reputation and multiple branch locations will allow BOMAG to expand our coverage in this important metropolitan market, especially regarding our asphalt roller, paver and milling product lines," says Cole Renken, vice president of sales and marketing for Bomag Americas. "McCann's vision of adding value to their customer's business relationships is aligned with ours. This strategic partnership is truly a winning combination for all contractors in this region."
Commenting on the new distribution agreement, Steve Roggeman, president of McCann Industries, offers: "BOMAG is respected as a world leader in the roadbuilding industry, and we are proud to represent the full line of equipment. BOMAG's range of equipment will help ensure contractors have the very best machines to complete their work efficiently. BOMAG's advanced technology and low-maintenance equipment designs, coupled with McCann uptime support, will bring real value to our customers' businesses."