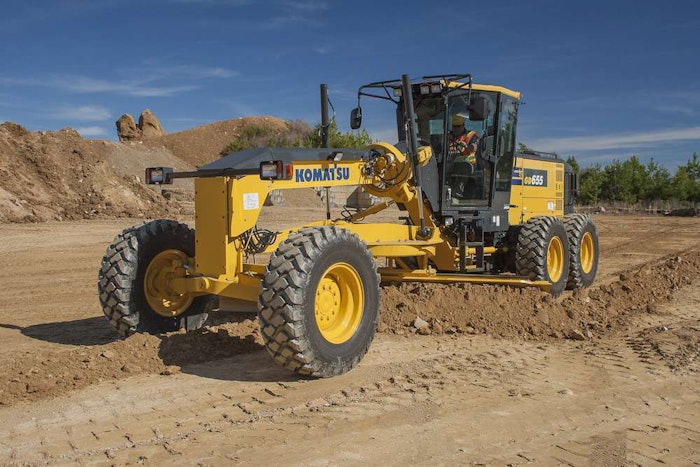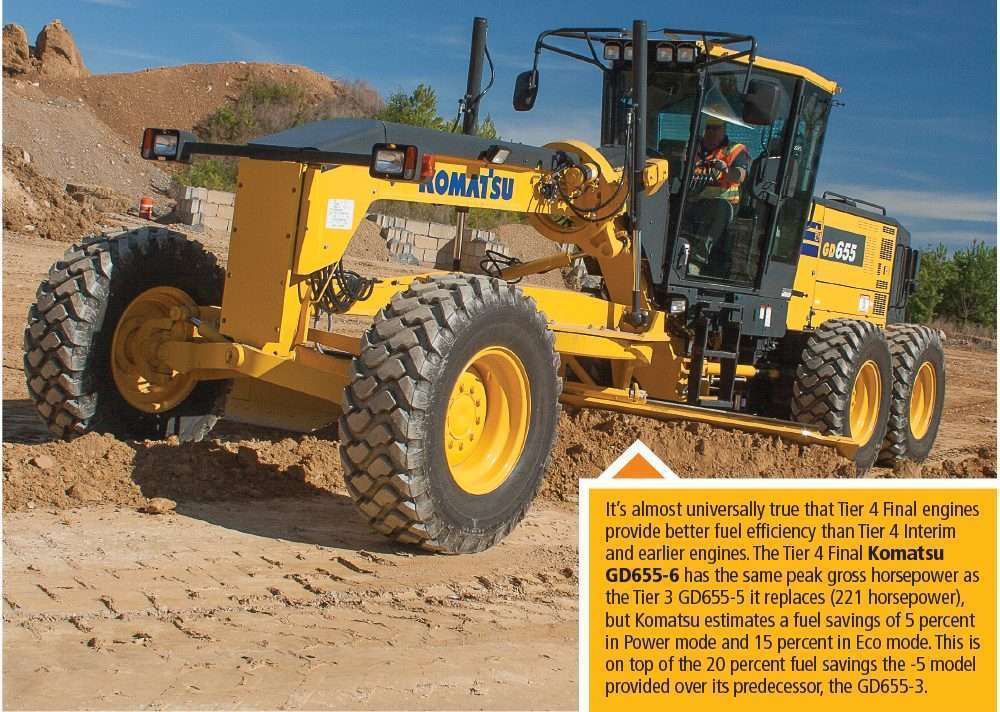 ---
Some machines are exciting because of the array of features, applications and attachments they support. Motor graders…not so much. They do one thing. They move dirt. So, how do OEMs build excitement for these one-dimensional machines? By making them better at doing that one thing.
Proper power
As with other types of equipment, graders have seen a steady rise in power. Unlike some other categories, this rise has been significant. Luke Kurth, grader product marketing manager with John Deere, says graders have seen the fastest power growth rate of any type of equipment, up some 40 percent in the past 15 years for Deere products. "Power is a key consideration because graders are drawbar machines."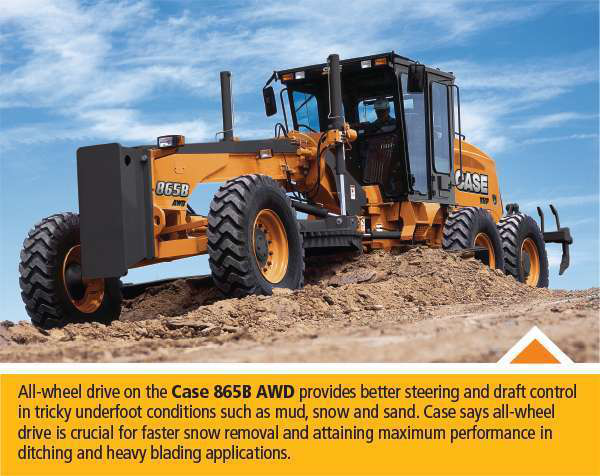 Some of that power increase is to handle the increased weight of Tier 4 Final compliance, which requires large, heavy aftertreatment components. To accommodate these components, manufacturers can lengthen frame rails or increase the size of the engine enclosure or both. On machines, such as wheel loaders, where maneuverability and rear visibility are essential, either solution creates problems. Because graders are less sensitive to these factors than are some other machines, one or both approaches may be used. Some manufacturers choose to lengthen the frame. But the combination of aftertreatment components and increases in frame length and sheet metal to house them creates significant additional weight, which requires additional power to preserve performance.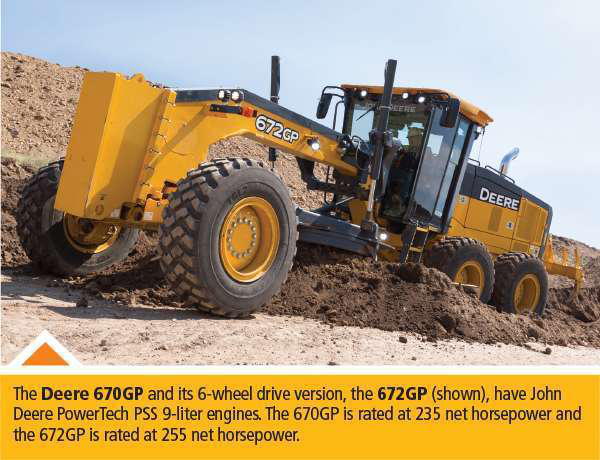 One caveat in all this is that weight balance must be preserved in order to not disrupt the performance of the grader, says Wade Porter, motor grader market professional with Caterpillar. This may include adding weight to the front of the machine to compensate for additional weight at the rear.
But these power increases are more than what's required to merely compensate for Tier 4 Final, and customers are finding these new, more powerful machines can do tasks their predecessors could not. "Customers are doing more rough-in with their graders now," says Kurth, "where they used to bring in dozers for all but the final grading."
The way power is used is just as important as the power itself. Front-wheel drive is one way to apply power more effectively. (Note that there is no standard term for this. It's front-wheel drive, all-wheel drive, 6-wheel drive, even front-wheel assist, depending on the manufacturer.) Power can be apportioned front-to-rear to suit conditions. For fine grading, drive can be front-wheel only and at very slow speeds. Front-wheel- only Precision Mode on Deere graders allows operation from 0.25 to 5 miles per hour, with speed infinitely variable between those low and high limits.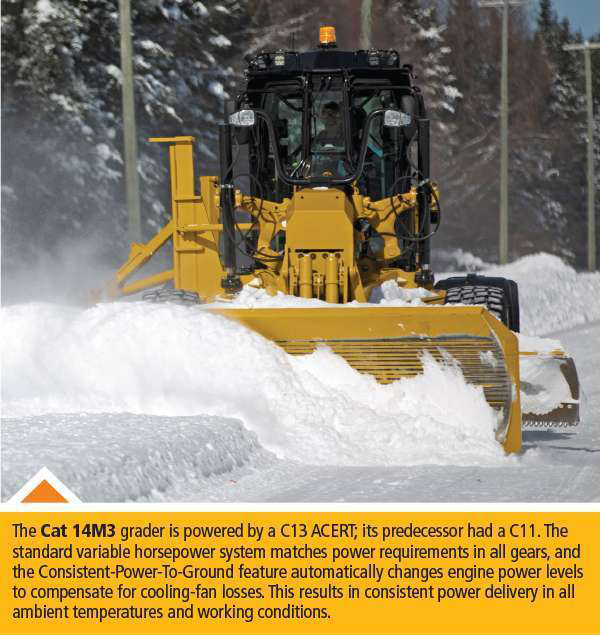 Transmission type also affects engine power requirements. "Komatsu is unique in that we use a torque converter," says Rob McMahon, product marketing manager. "The torque converter multiplies the output of the engine, significantly increasing power to the ground." The dual-mode transmission operates in torque converter mode in mixed conditions, when the moldboard might strike a rock or other obstruction, and in direct-drive mode for fine grading. Komatsu has also been using a closed-center hydraulic system, so there has been no need to modify hydraulics to keep pace with demand.
Kurth says Deere graders use event-based shifting, which results in smoother shifts and less likelihood of breaking traction. If the grader encounters an immovable object, an anti-stall feature kicks the transmission to neutral before damage to the machine can occur.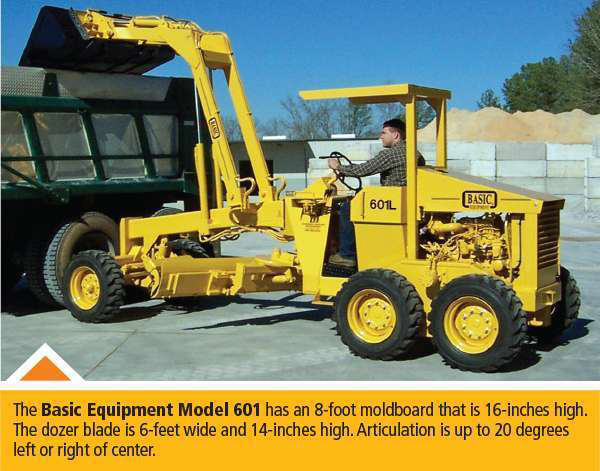 The design of ground-engaging tools (GETs) affects required horsepower. Rippers, scarifiers and front blades can vary in their horsepower demands. Case rethought moldboard design to reduce power demand from the GET a grader uses most. While the typical moldboard has a single arc in its cross-section, Case uses an involute design with multiple radii. "The involute multi-radius moldboard moves more dirt with less horsepower and greater fuel efficiency," says John Bauer, brand marketing manager for Case Construction Equipment. "This rolling action also mixes material better, improving the quality of the base spread."
McMahon says there is a requirement for more electrical power and Komatsu has beefed up the electrical output on their GD655-6. Some of the increased electrical capacity goes to grade control systems, when the grader is so equipped. Much of it goes to DEF line heaters. Although the DEF line is purged at shut-down, it is heated in cold weather operation to ward off freezing.
Sometimes, smaller is better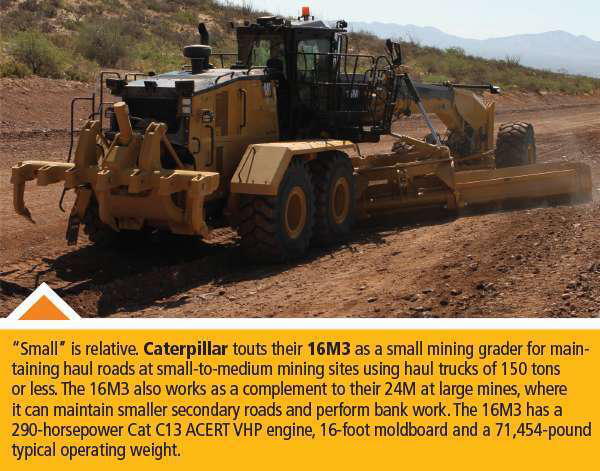 Most customers know the size of grader they need for their applications, and keep using what has always worked for them. Some government customers are trying smaller, less-powerful graders and getting good results, notes Caterpillar's Porter. "County and other municipal agencies maintain gravel roads," he says, "which is a light-to-medium duty application. But they're doing this work with models designed to build roads and develop sites in the private world. In other words, they're using more machine than necessary."
Factors affecting government buying choices include a history of buying a certain size class of machine, the residual value of a grader when it's sold into its second life to a private owner, and the need to move snow off those county roads, which requires higher speed and power. After balancing all the considerations, "We do see a small percentage of customers trying smaller models and liking the result," Porter says.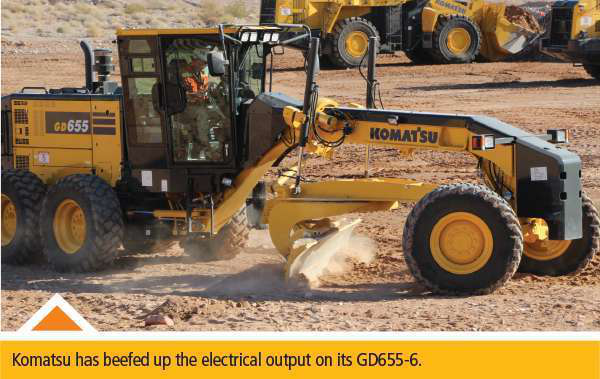 Basic Equipment offers only one grader, the Model 601, and it fits the smaller-is-better theme perfectly, with its 6,400-pound operating weight and 49.5-horsepower Kubota diesel engine. At this small size, the 601 competes with skid steers, not larger graders, according to Shannon Chastain, president and owner of Shannon Chastain Enterprises, the parent company of Basic Equipment. "Our grader offers better precision grading than skid steers, and is ideally suited for such applications as golf courses and playing fields." Despite demand in specialty applications, Chastain says their typical customer is an asphalt contractor doing gas stations, convenience stores and driveways. Even large parking lots can be a good place for the 601, since many lots must have lighting, green space, retention ponds and other features that break up what would have been a vast, open expanse of paving in past decades. "Our machine can grade areas where other graders can't even turn around."
Customization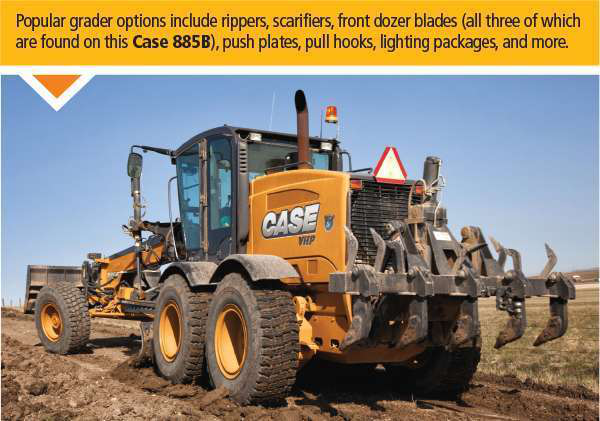 While graders don't create demand for attachments and one-off features the way other types of machines often do, customers occasionally have special requests. In anticipation of these requests, OEMs are adding hydraulic and electrical features to make adding options easier. Komatsu, for example, went from an 8-spool control valve to one with 10 spools; the two additional circuits are split – one to the front and one to the rear – for use with attachments.
Control of options and attachments is integrated into the grader's standard controls in most cases. "Our patented Advanced Control Joystick option gives control of Cat GRADE with Cross Slope, AccuGrade, or Snow Wing," says Caterpillar's Porter, "and can be configured to control auxiliary functions such as a ripper or front plow blade. All this from the joysticks."
Chastain says although his company doesn't emphasize their ability to customize the Model 601, they've done just that. A front-mounted loader is a popular option. Capacity is about 1,000 pounds and lift height is 9 feet, 6 inches. An optional quick-attach and 12 gallon-per-minute hydraulic circuit allows the use of common skid steer attachments on the front of the Model 601.
While factory-installed options are available, it's often the dealer who's tasked with finding solutions to customers' needs. Basic Equipment graders are sometimes used for levee work involving extreme side slopes. Counterweights help the grader resist roll-over in these conditions. And, because the 601 is hydrostatic drive with no mechanical coupling between the engine and the drive, the company has mounted the entire engine assembly on a pivot so it remains upright on these side slopes and doesn't starve the sump of oil.
While Berry Tractor and Equipment mostly sells Komatsu graders, they also offer Mauldin Paving equipment, including graders.
Part of Berry Tractor's offering is the Handy Hitch Profile Packer/Roller, a pneumatic-tire unit that uses hydraulic downforce to compact soil behind the grader. For customers whose graders are spec'ed with grade control, Berry Tractor will piggyback a secondary hydraulic controller to allow electrohydraulic (EH) functionality for use with those systems, while retaining non-EH feel and control for the operator.
Jon Berry, Berry Tractor company president, says telematics use is mixed among his customers, with private contractors using it the least and governmental agencies using it the most. "Our company helps customers, even those with a single grader, to get the most from telematics, and one way to do that is to improve their service procedures," he says.
Steve Sanders with Berry Tractor also cites the complexity of modern equipment as a key reason for customers to understand and use the capabilities of telematics. "We used to say, 'This isn't rocket science.' But now it kind of is," he says. Telematics help ensure service is done efficiently, on even the most sophisticated machines.
And the benefit of that sophistication is a more versatile machine. Beyond being able to move more dirt due to power increases, modern graders can move dirt with greater precision. "Machine guidance technology allows motor graders to go beyond flat surfaces." says Bauer. "They can effectively work on complex slopes. This is pushing graders into more technical grading applications, such as golf courses and landscaping."