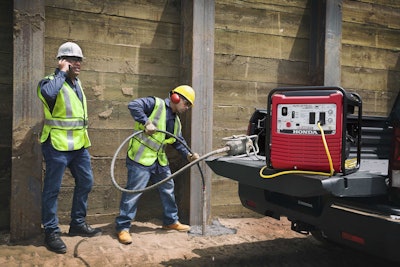 Honda's newest generator for the jobsite, the EB2800i, features a lightweight, compact design that allows one worker to load and unload it from a truck, as well as carry it around the jobsite to operate a variety of tools.
Weighing in at 67 pounds dry, the inverter generator delivers 2,800 watts/120 volts to power such devices as small compressors, air circulation fans, large concrete drills, hand tools, electric concrete vibrators, circular saws and battery chargers. Honda says its inverter technology results in a consistent, stable-signal electrical current, allowing it to run computers and power-sensitive equipment without fear of interruption.
The EB2800i features a run time of 5 hours, and up to 12 hours in Eco Throttle, on one tank of gas. The generator's fuel tank holds 2.1 gallons, and its Eco Throttle feature automatically adjusts engine speed to reduce fuel consumption by up to 40 percent.
Eco Throttle can run at lower rpms yet still maintain the power needed for the requested load due to its "load-dependent speed control-type governor," Honda says. Eco Throttle also helps reduce emissions and noise. A large muffler also contributes to noise reduction. The generator emits between 62 and 67 decibels.
The EB2800i will automatically shut off to protect the engine when it detects low oil levels. It meets OSHA and Electrical Test Lab's North American safety standards. It also meets all 50 states' EPA and California Air Resources Board emission levels, the company says.
Honda added jobsite grade GFCI (Ground Fault Circuit Interrupters) for short-circuit and overload protection on all outlets. It also provides neutral bond protection, which bonds the neutral wire to the ground and is required by OSHA on certain jobsites.
The generator is protected by a rugged frame and provides hand holds and tie-down locations. It retails for $1,150 and has a one-year commercial warranty.