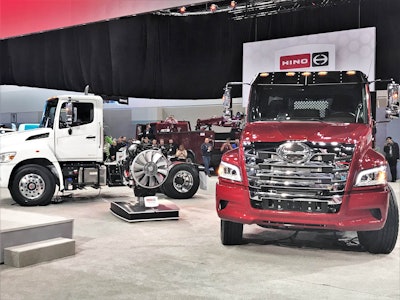 Hino recently announced that it will pause truck production for roughly nine months at its North American plants following certification issues with its diesel engines.
Effective with model year 2021, Environmental Protection Agency Phase 2 regulations tighten standards for carbon dioxide and greenhouse gas engine emissions for heavy- and medium-duty trucks.
Hino manufacturing plants in Williamstown, West Virginia and Woodstock, Canada will be idled "following challenges in the required U.S. engine certification testing process for new model years of the A09C, J08E, and J05E engines for North America," according to a press release issued by the Toyota subsidiary.
Hino in the last two years has beefed up its North American commercial trucking presence – first with the launch of its Class 7 and 8 XL Series launch in 2018 and followed by the 2019 debut of new cabover and conventional models for its Class 4 through 7 product offerings for the 2021 model year.
The production pause has also brought about a freeze in new model year vehicle sales in the U.S. and Canada. Truck production in both countries is expected to resume in October of next year.