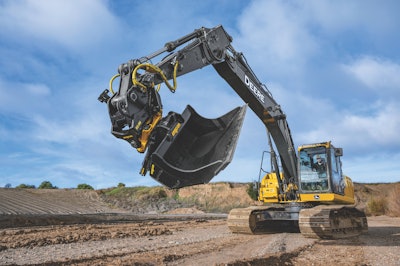 John Deere
Most changes to current excavators appear relatively small. But the net effect of those many changes has resulted in a crop of dramatically improved models.
The changes have also expanded the tasks excavators are now doing.
"We are long past the day when there was just a bucket on the end of a stick," says Jonathan Tolomeo, Komatsu excavator product manager. "Excavators have become toolcarriers."
That versatility is further increased by the tiltrotator, a device that is catching on in the U.S. Experts we talked to say the attachment, which enables 360-degree rotation and side-to-side tilt, speeds up production.
Justin Steger, Deere solutions marketing manager for site development and underground, adds that tiltrotators also increase efficiency in confined spaces and can save 15% to 30% in time across all applications.
"They offer the same appeal as do zero- and reduced-tailswing machines, but at the other end of the excavator," Steger says. "And there's no need to decouple the bucket to reverse it for tricky digging situations."
Here's a closer look at what's new with excavators:
Wide-ranging improvements
Luke Hill, excavator product specialist at Bobcat, says the company's two large excavators, the E145 and E165, have four power modes. In addition to Standard and Economy, there are Power and Power +.
Power mode provides ample power to work circuits while also preserving higher travel speeds. Power+ delivers maximum power to the work circuits for faster loading and peak digging performance in hard ground.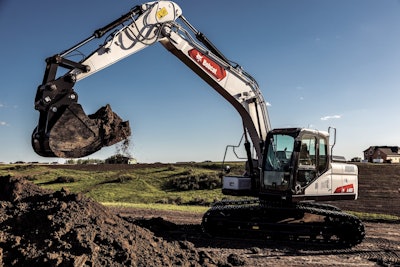 The two models also have four work modes: Breaker (one-way auxiliary flow), Shear (two-way flow), Lifting, and Digging. While in Digging mode, operators can engage Smart Power Control. SPC matches engine rpm, engine response and hydraulic output to the load to improve efficiency; SPC is available in any of the four power modes.
"In the last four or five years, we've seen huge growth in specialty applications," says Bart DeHaven, excavator sales, Kato-CES. He sees two key factors driving this growth. First, lots of employees at construction firms are leaving to start their own companies, many of them in narrowly focused markets. Second, many smaller contractors are branching out, such as the plumber who now also does site prep.
"We understand these shifts," says DeHaven. "We're a small, family-owned company in business since 1994, and we relate to and support entrepreneurship."
All three models of Kato's large excavators come with dual auxiliary hydraulics, adding flexibility. The two largest come standard with full electronics, including monitor with two cameras and telematics, three digging modes and auto-idle. The cabs have heating and air conditioning and six-way adjustable seating. The excavators are also equipped with a pattern change valve and an on-board pump to facilitate refueling.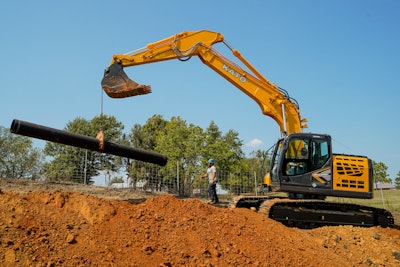 Tolomeo and Andrew Earing, who is also an excavator product manager at Komatsu, say the company's recently unveiled intelligent Machine Control 2.0 expands the adaptability of its excavators.
"Multifunction-control joysticks with programmable proportional thumbwheel controls have five features available on each joystick," says Earing.
Tolomeo and Earing point out two key features of iMC 2.0. One is bucket angle hold, which maintains the bucket angle throughout the grading pass. "With this feature, the operator need only manage arm-in input," says Earing.
The other key feature is auto-tilt bucket controls. Models with iMC 2.0 work with any bucket manufactured with a tilt feature. This requires field installation of sensors on the bucket so the system has data to work from. "The system allows the machine to match the design surface via machine control, increasing versatility and reducing the need to reposition the excavator throughout the day," says Tolomeo.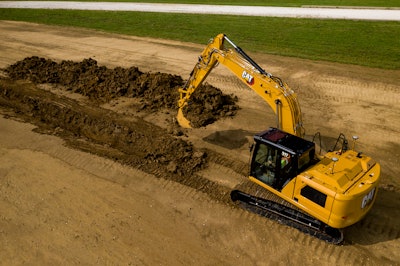 Cat's Next Gen machines have electrohydraulics instead of pilot valve controls. While EH controls benefit the operator, that's just the beginning.
"The new design allows concentration of the hydraulic system near the center of the machine," says Stellbrink. This makes the system more responsive and reduces parasitic and frictional losses for improved performance.
With the Case SiteControl 2D/3D semi-automatic excavation system, the operator can select automatic control of the boom, bucket, tilt or rotate or any combination of these. Machine control is fast and efficient at digging to grade; it also minimizes over-excavation (undercutting).
Nathaniel Waldschmidt, product manager, Case Construction Equipment, says it's especially important to reduce undercutting on a site with stability requirements. "Replacing material back to spec requires a lot of extra time and effort. Case SiteControl helps avoid that."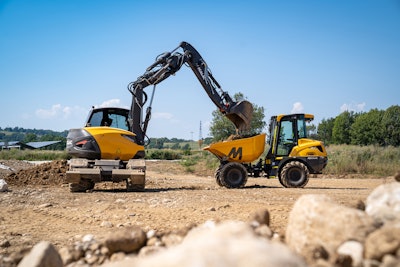 Peter Bigwood, general manager, Mecalac North America, says, "Our dealers tell us the trend is toward wheeled models. Wheeled excavators offer so many advantages in terms of positioning, maneuverability and roading that they are now the preferred machines for many applications."
Mecalac's wheeled models have a three-position dial offering Parking, Operational and Over-the-Road settings. Each setting changes a wide range of operating parameters.
Selecting the Parking position sets the parking brake, puts the transmission in neutral, sets the engine at idle, puts the display in economy mode, locks the oscillating axle and deactivates the throttle pedal. Operational mode reduces travel speed while allowing full engine speed and biasing hydraulics toward digging. Over-the-Road biases hydraulic toward travel, renders the boom, stick and stabilizers inoperative, changes the display to travel speed, deactivates the travel alarm, disables the auto-idle function, turns on the rotating beacon and enables the brake lights.
The same design philosophy Mecalac uses in its smaller excavators carries over to its 15MC crawler excavator and 15MWR wheeled excavator, including the company's two-piece boom.
"Visibility is also emphasized," says Bigwood, "especially to the rear where other excavators have tall engine compartments or large counterweights obstructing the operator's view."
Cost control
Undercarriage costs are one of the top costs related to excavators, "but they're also the least glamorous topic," says Brian Stellbrink, Cat senior market professional. Undercarriages are the most mature system on an excavator, and "most of what's been used in the past is carried forward because it works."
Examples include sealed track, easy access to tension adjusters, and track roller and frame designs that shed debris and make cleanout easy and effective. Likewise, operators continue doing what they've always done, including a daily walk-around, maintaining proper track tension and cleaning out the undercarriage at the end of each day.
Cat has improved bearing contact areas on upper (carrier) rollers and select bottom rollers. It offers track that is narrower but thicker for use in rock. This narrow-but-thick track provides good wear characteristics and service life with minimal twisting force on the track.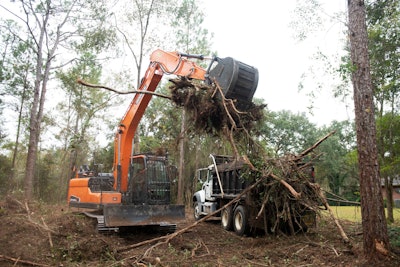 Fuel consumption is the other big cost, and OEMs continue to improve fuel efficiency, although "it's mostly small gains now," says Aaron Kleingartner, dealer and product marketing manager, Doosan Infracore North America.
Idle time has been associated only with wasted fuel, but it also represents wasted hours in both equipment life and warranty coverage. Low temperatures during idle can jeopardize the performance of exhaust aftertreatment systems.
As the market moves toward hybrid and electric machines, Kleingartner advises owners to keep in mind that all machines have energy costs, whether in gallons of diesel fuel or kilowatt-hours of electricity.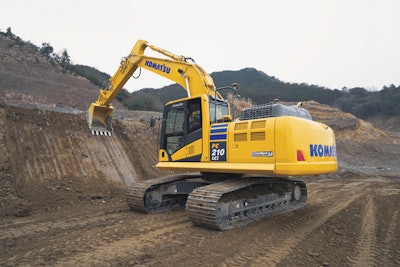 "When it comes to idle time, how long is too long is highly dependent on the application," says Mark Wagner, manager, services business, Hitachi Construction and Mining. "Idle time itself isn't necessarily bad, but excessive idling is."
Wagner says excavators may be productive while idling when setting structures and holding them in place. While these processes may entail several minutes of idling, Wagner says that excavators in production applications should see no more than 30 seconds of idle time between trucks.
"Most mass earthmoving or quarrying applications work on a 50-minute productive hour, which means about 17% non-productive idling time. If data from telematics, such as Hitachi's ZXLink, show 30% or more idle time, the contractor should consider adding another truck to increase productivity and reduce idle time."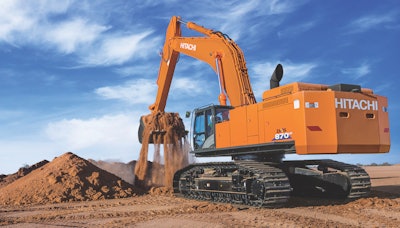 Residual value is a big factor in life cycle costs, but "owners of large excavators tend to keep them for the life of the machine," says Chris Lucas, excavator product manager, JCB, "so residual value is not a key consideration."
Even so, JCB does things that protect residual value such as having a 100% steel body and double-skinning the doors and engine compartment. JCB tests main components to ensure at least 10,000 hours of useful life.
Customers can take steps to preserve residual value by staying current on preventive maintenance and repair and keeping good service records. "Telematics, such as JCB's LiveLink, work well for record keeping," says Lucas.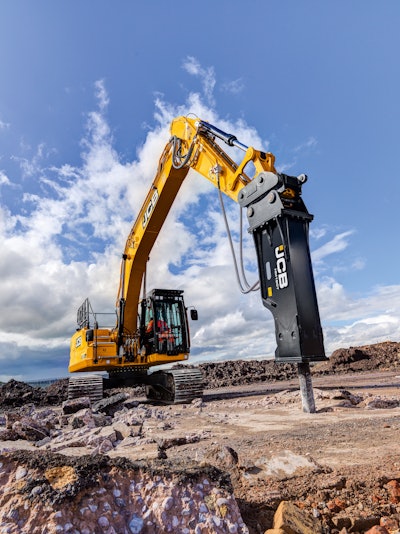 Another way to protect residual value is to configure the excavator in its final form from the factory, says Waldschmidt. "For example, equipment that comes with machine control solutions such as Case SiteControl installed by the OEM and purpose-fit for that machine will hold greater value in the secondary market."
Tiltrotators swarm the market
Tiltrotators have become popular, due in part to the desire to get more versatility out of excavators. Dan Collins, product marketing manager, Kobelco, cites some considerations.
With the bucket positioned straight, as it would be without the tiltrotator, differences in bucket breakout force, arm-in force and bucket curl are negligible. "This all changes when the bucket is operated at an angle or when working with a wide cleanout bucket." This shouldn't matter as long as the excavator is not already working at 99% capacity before the installation of the tiltrotator.
Collins says tiltrotators are useful in most applications. "The one exception is heavy production and loading." Sloping, trenching, fine grading, and working around things all lend themselves to tiltrotator use. He recommends three buckets as a minimum: trench, pipe (narrow) and grading (wide).
Todd Cannegieter, product manager for attachments and special applications, Volvo CE North America, offers tips for first-time users of tiltrotators. "You might feel daunted at first, but a little practice will quickly raise your proficiency."
He advises pairing the tiltrotator with compatible attachments, such as Volvo's tiltrotator grading bucket, which has a special shape to keep the corners of the bucket from contacting the working surface through the many positions of the tiltrotator. "Remember you have more grease zerks than before, and they aren't likely to be hooked up to an auto-greasing system."
Cannegieter says it may take some research to determine whether a tiltrotator is compatible with the machine control system on your excavator. Volvo is rolling out its SmartConnect feature to help ensure compatibility of tiltrotators from all major manufacturers with Volvo's Dig Assist system.
As for installation, Deere's Steger says that's best left to the dealership. Make sure the tiltrotator matches the hydraulic specs of the excavator and be mindful of the extra weight a tiltrotator adds to the front of the machine.
"You're tapping into the machine's electrical and hydraulic systems," Steger says, "and that takes specific knowledge and skill to do successfully."