A new fuel system, a new cooling system, a new hydraulic system and better performance. These are the first of Bobcat's new R2 Series excavators.
Check out our video here for all the details, or read on for more:
Bobcat has introduced the E42 and E50 compact excavators, the first of its new R2 Series. The E42 is a conventional tail swing machine designed to fit through tight access points like doors and gates. Its weight also allows it to be transported on a 10,000-pound trailer.
The E50 is larger, weighing more than 10,000 pounds and coming in about 8 inches wider than the E42, but is a zero tail swing model and offers about 2 more feet of reach at ground level than the E42 with 19.5 feet of reach.
Both machines are powered by a turbocharged Bobcat D18 engine providing 42 horsepower to the E42 and 49 horsepower to the E50. They feature a new more efficient cooling system with side-by-side heat exchangers that Bobcat says improves performance and serviceability while protecting engine component life. Bobcat has also outfitted these machines with a highly durable, composite tailgate that has a steel interior for protecting the machine's interior components. A bonus: the new tailgate also reduces noise and vibration.
Bobcat says customers can expect reduced maintenance time thanks to the new fuel system. The engine oil service interval is longer too, and capacity has been added to the machines' fuel filtration system.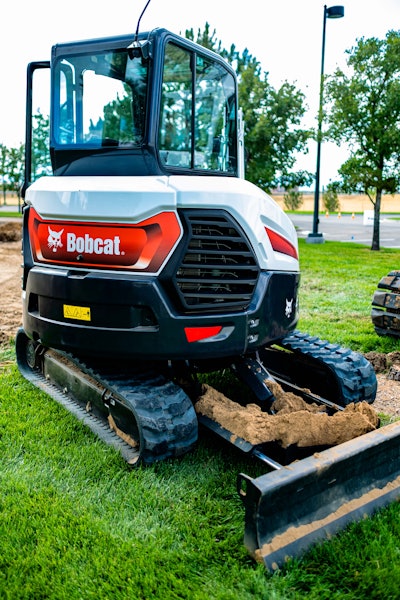 The machines feature the same dual-flange track roller system found on the new, larger E145, that extends the undercarriage structure closer to the track's edge. The added stability of this design, plus a new integrated counterweight, increases lift-over-side capacity. It also improves over-the-side digging performance and slewing ability.
These new excavators also boast a new hydraulic system Bobcat says improves metering and precision for fine grading while still offering strong trenching performance.
Bobcat says that through its market research, it has found that operators are operating exacavators for longer periods of time. To that end, it has devised a new joystick that requires lower effort which should pay dividends for the joints after a long day.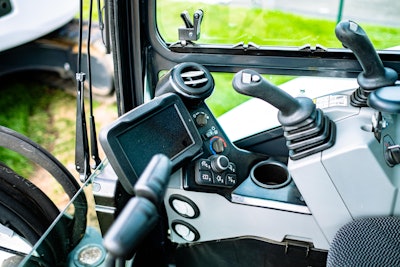 Operators will also enjoy a spacious new cab that offers automatic heat and air, a heated seat, easier entry and exit and improved visibility thanks to a new design that has narrower side pillars and more glass surface area in the can's side and top windows.
A 5-inch LCD is standard while the more sophisticated 7-inch display found on the E145 is optional. This new Bobcat Touch display gives operators access to detailed machine information and can be navigated with touch or jog dial. The touchscreen is waterproof, can be used with gloves and and has is scratch resistant. The cab also features a Bluetooth Audio system for hands-free phone calls and music.