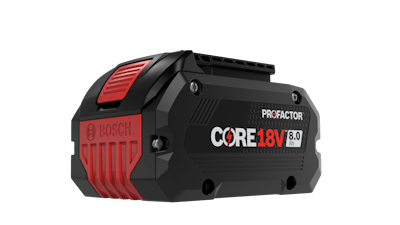 Bosch
Power is the name of the game in cordless tools, and Bosch announced at the World of Concrete its new line of Profactor cordless tools with a Core18V battery platform and Bosch Biturbo brushless technology.
The Core18V batteries feature advanced cell technology that incorporates copper end plates, welded cell connectors and power rails. This combined with Bosch's Coolpack 2.0 technology allows tools to draw higher current from the battery. The Profactor batteries are part of a platform and will be interchangeable with other brushless Profactor tools.
Inside the tools themselves the Bosch Biturbo technology teams a high-performance brushless motor and drive train with powerful magnets and optimized in-tool electronics to maximize the efficiency of the tools and get the most work of the battery. Unlike carbon brushes on conventional electrical motors which are in contact with the motor and generate heat and friction, brushless motors are friction free. They provide more power, run cooler (which is important in battery-powered tools) and are maintenance free — you never have to replace the brushes.
The list of the first Bosch tools that will receive the Profactor and Biturbo technology is below, with more tools to come.
• Bosch GBH18V-36CN 18V Hitman SDS-max 1-9/16-inch rotary hammer
• Bosch GBH18V-45CK 18V Hitman SDS-max 1-7/8-inch rotary hammer
• Bosch GBH18V-34CQN 18V SDS-plus 1-1/4-inch rotary hammer
• Bosch GWX18V-13CN 18V Spitfire X-LOCK 5-6-inch angle grinder
• Bosch GKS18V-25GCN 18V, 7-1/4-inch circular saw