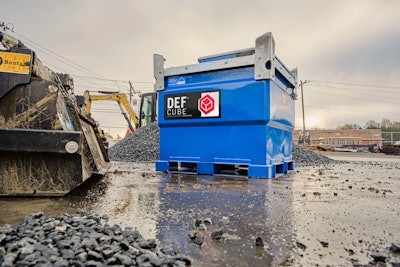 Western Global
"DEF has been a universal problem without a universal solution," says Western Global, a fuel and fluid storage solutions manufacturer.
To solve that problem, the company has introduced two new diesel exhaust fluid storage products to its lineup: the DEF Cube and Top Tote.
From excavators and wheel loaders to haul trucks and generators, Western Global's DEF tanks connect to any engine with only a few small adjustments to the control pad.
"Our customers are looking for the same experience with DEF as they get with diesel, and these new storage tanks answer that call with the versatility to connect to and fill any piece of equipment," said Jeff Lowe, vice president of product marketing at Western Global.
The DEF Cube
The DEF Cube is a stand-alone tank capable of holding 132 gallons of DEF.
It features four-way forklift pockets for transport, lockable compartments and a stackable design. The DEF Cube can be positioned next to on-site fuel storage tanks so operators can fill equipment with both fluids at the same time.
The durable design will withstand harsh conditions on remote jobsites or quarry operations. It comes with a poly inner and a steel outer tank, which helps maintain the temperature of the DEF.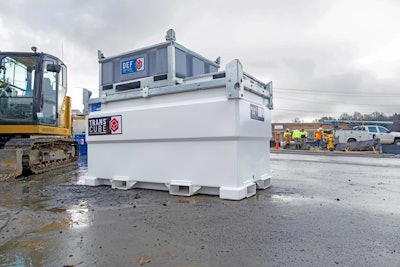 The Top Tote
The 110-gallon-capacity Top Tote can be attached to the top of Western Global's 20TCG, 40TCG or 50TCG TransCube Global fuel tank for a 2-in-1 diesel and DEF solution.
The height of the pair is under 6 feet, eliminating the need to use a ladder or harness to access the ports.
The Top Tote can be daisy-chained on the 40TCG and 50TCG TransCube Global to maintain the proportional relationship of approximately 10% of DEF per gallon of diesel.
It comes with a reusable nylon Micro Matic RPV valve designed to pair with RSV/RPV couplers to provide closed liquid transfer. The valve automatically closes once disconnected, keeping the fluid in the hose and sealing the Top Tote to prevent contamination.
"While we are focusing on 100-gallon storage tanks to start, our DEF Cube and Top Tote are just the beginning of a robust product family that will keep growing," Lowe said. "With a true plug-and-play design and universal compatibility to connect to and refill any equipment with just a few tweaks, our DEF Cube and Top Tote are the future of DEF storage solutions."
No assembly is required for the DEF Cube or Top Tote. Both systems are capable of operating for extended runtimes in cold weather, Western Global says.
Two pumping systems are available for the DEF storage tanks — an AutoDEF Replenish system or a transfer pump with a nozzle. AutoDEF Replenish monitors the level of DEF in the equipment and automatically refills the fluid as needed. Those running equipment that moves throughout the jobsite will benefit more directly from the transfer pump with a nozzle.