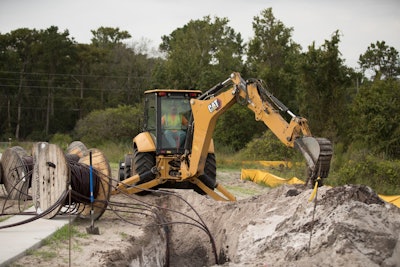 Caterpillar
After significant contraction over several years, the backhoe market has not just stabilized but has actually shown some growth recently.
"Backhoes are experiencing a renaissance," said Brad Stemper, product management lead, during Case Construction Equipment's rollout of five new backhoe models in March. "With the labor challenges our industry faces today, it makes great business sense again that business would own a single asset that can perform multiple functions versus multiple machines that require individual operation by individual operators."
Unlike most new construction equipment, however, backhoes did not rely on new features to drive sales. Instead, OEMs found ways to make backhoes do what they've always done – only better.
There also appears to be no drive to change the size and power of backhoes.
"I don't see any pressure for larger or more powerful machines," says David Young, product application specialist, Caterpillar. "If that changes, it will be because of roading and loading, as they require the most power."
He estimates the industry average use of the machines is two-thirds backhoe and one-third loader, a split that will not create pressure for more power.
While there's no pressure for bigger backhoes, Young adds, "the popularity of compact equipment raises the question: should a smaller backhoe be considered?" Currently there's no demand for a backhoe to compete directly with compact equipment, which has eroded the machine's market share. The versatility and roadability of backhoes, however, may create that demand later.
Young says Cat's catalog is typical of the market. Its largest model is the 131-horsepower 450 in the 17-foot dig-depth class. The 70-horsepower 415 is its smallest and is part of Cat's 14-foot class, along with the 416 and 420. The 92-horsepower 420 is Cat's most popular model.
Kubota's tractor loader backhoes
Kubota's three-model lineup consists of the 24-horsepower B26, the 47-horsepower L47 and the 63-horsepower M62 Tractor Loader Backhoes. Kubota's nomenclature emphasizes the tractor aspect, as does the standard PTO on its TLBs.
"Providing a PTO allows the use of a wide range of attachments and tools without the cost and complexity of auxiliary hydraulics," says Tyler Weyenberg, product manager, compact and utility tractors, Kubota. The rear PTO on the M62 is rated at 46 horsepower and turns at 540 rpm, which gives attachment performance comparable to machines with greater engine horsepower and auxiliary hydraulics.
Deere focuses on weight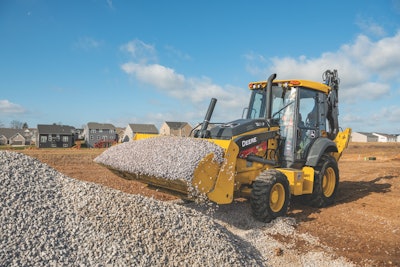 The new 320 P-Tier from Deere replaces the 310, which came in configurations rated at 69 to 113 horsepower, with a single model rated at 113 horsepower.
"For most 15- to 16-foot class machines, engine power and hydraulic power are adequate and are secondary considerations," says Justin Steger, solutions marketing manager, John Deere. "Machine weight matters more, and 310-size machines [14 to 15 feet of dig depth] are easier to transport, which is a big deal especially for rental customers and owner/operators." He says auxiliary hydraulic circuits and performance are increasingly important as the use of attachments increases.
Case's Extendahoe and "Construction King"
The most common boom dig depth is still 14 feet within the industry, says George MacIntyre, Case product manager. But Case also offers an optional Extendahoe, which gives operators 4 additional feet of digging depth.
"Backhoes with Extendahoe account for more than 90% of the Case sales of backhoes," he says.
Case recently rebranded its N Series backhoes under the old "Construction King" name and launched five new models: the Utility Plus, the 580SV center pivot, 580SV side shift, and two 695SV models.
Attachments with some twists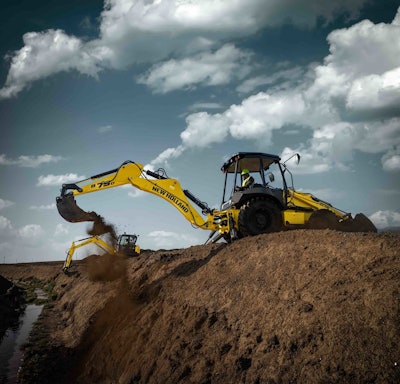 Work tools and attachments have become their own industry as related to compact equipment. For backhoes, not so much.
Buckets still rule the loader end, says Ryan Anderson, product marketing manager, New Holland Construction, while thumbs, compactors and hammers are the big three on the backhoe end. That said, there is growth in the sizes and features associated with these attachments, with specialty buckets for both loader and backhoe leading the way.
As the use of attachments slowly increases, "There is a move toward hydraulic couplers instead of dead pins," says Anderson, "but these have their own challenges."
New Holland Construction offers FFC couplers on the loader arms, but these require an additional hydraulic spool. The common industry interface (CII) found on compact equipment isn't a great match for backhoes because backhoe loaders generate significantly more torque than a skid-steer attachment plate can handle. "At this time there is no big breakthrough in couplers for backhoe loaders."
James Gill, product manager, JCB, says backhoe loaders can be configured to provide great power and versatility in crowded spaces. "Tiltrotators are gaining popularity. Side shift is popular for roadwork because it can help minimize lane closures and traffic disruption." He says 6-in-1 buckets and snow removal tools are seeing sales increases.
For Case, MacIntyre says, hydraulic quick couplers are popular because they allow the operator to switch between front attachments quickly. Popular attachments for the loader include a variety of buckets, brooms and pallet forks. Case has also seen increased sales in the 6-in-1 bucket, which includes pallet forks that can be folded down to pick up pallets and folded back up to use the bucket again.
On the back end, thumbs are more popular than ever, he says. Hydraulic breakers are also popular. And combining a breaker and thumb enables operators to pick up the broken pieces after using the breaker to demolish a concrete slab.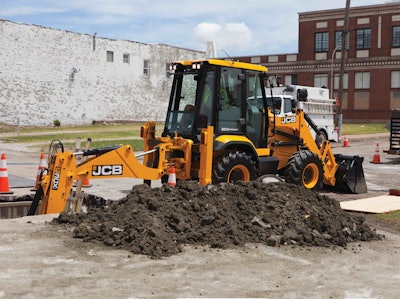 Alternative fuels
JCB has done extensive development of electric machines, including the 19C-1E compact excavator. But Gill says backhoe loaders are not well suited for electrification.
Their power demands are high, and unlike other types of equipment such as compact excavators, there's not enough space for batteries.
So in addition to electrification for compact equipment, JCB is developing hydrogen combustion engines to power machines. Besides needing less space than batteries, hydrogen combustion technology offers higher energy and fuel capacity and much faster refill times than electric.
There is broad discussion about the challenges of the production, distribution and storage of hydrogen, but there are ample challenges associated with electrification, as well. For JCB's part, "we're working on the machine, not the infrastructure," says Gill.
Steger says Deere's strategy is to research alternative fuels that are sustainable, efficient and productive. "Electric is one piece of the solution, but not the whole solution." The 310 X-Tier electric backhoe is in phase 2 field testing.
Anderson says electric makes sense for certain industries, such as steel production and for customers seeking to lower their carbon emissions as part of their ESG (environmental, social, governance) mission. Municipalities, utilities and large corporations are the most likely customers to have such ESG objectives.
Cat has been notably silent on the topic of electrification. Young says Cat "is not ignoring alternative-fuel development but is simply taking a wait-and-see approach."
Backhoes adopt industrywide technology
When it comes to technology and features, "There's nothing coming to backhoes that is not already seen elsewhere in the industry, especially on compact-track and skid-steer loaders," says Anderson.
New Holland offers return-to-dig, ride control and one-way self-leveling; dual-direction self-leveling is being looked into.
Kubota's L47 and M62 models include several features. Backhoe crawling mode allows repositioning the machine at the press of a button while trenching with the backhoe. HST Plus offers Auto Throttle Advance, Hydro Dual Speed, HST Response Control and Stall Guard Plus. A hydraulic circuit switching lever redirects hydraulic oil when the backhoe is not is use. Instead of flowing through the backhoe circuit, oil is returned to the tank to reduce heat buildup. A throttle-up switch increases engine speed and gives extra power and speed for loader work without increasing travel speed.
Deere's P-Tier models have more features compared to simpler and less expensive G-Tier machines. That includes pressure-compensated, load-sensing hydraulics, which provides the foundation for a host of other features:
Lift mode gives 10-15% greater lift (craning capacity) at the backhoe with the press of a button.
Precision mode reduces flow by 50% to give more precise control at the backhoe with the push of a button.
Auto ride control is standard and is automatically activated by ground speed.
Autoshift Plus functions like a fully automatic transmission while also giving operators the ability to choose gears.
As for Cat, it's made seat-mounted electrohydraulic controls standard on the 420 XE, 440 and 450. EH controls will be the building blocks for future feature sets.
The 415 and 416 have optional pilot controls instead of mechanical sticks ("wobble levers"). EH controls may come to these models as options.
Case is adding new models to its lineup with designs based on customer feedback, MacIntyre says. One example is a single-piece rear window design on its newest models that can be easily stowed above the operator's head for increased visibility.
"We still continue to offer models with a three-piece rear window that allows the flexibility to have the windows partially opened," he says. "Surveys have told us that customers have different likes and dislikes for those types of features, so we are trying to accommodate them with different choices."