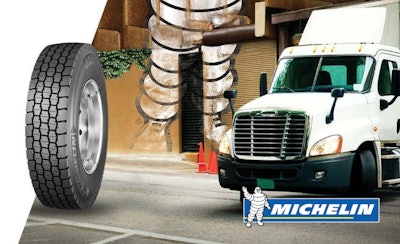 Designed for a wide variety of applications, the new Michelin X Multi D tire introduced this week features a number of innovative design features.
The rubber in the tire is not a uniform compound, but rather a co-extruded rubber compound that combines a top layer of scrub resistant rubber with a bottom layer at the belt package that keeps the tire cooler, says Adam Murphy, vice president and director of marketing for Michelin Americas Truck Tires.
Tear-drop shaped groves at the bottom of the siping help prevent the tread blocks from cracking under high torque forces and decrease heal-toe wear. The full depth, matrix siping widens the grooves as the tread wears away to optimize traction throughout the lifecycle of the tire, he says.
Additionally, the Michelin X Multi D tire's open shoulder tread configuration allows water, mud, snow and slush to exit under the tire to maintain tread contact patches in all conditions. And a double-treated casing additive helps forestall ozone and weathering damage, says Murphy. The benefits these design innovations bring to the customer include long lasting tread life, suitability for high-torque applications, and all-weather traction without a sacrifice in scrub resistance.

The market segments Michelin is aiming at for the X Multi D tire include regional haul, urban and on/off road—pretty much everything except line haul, says Murphy. This includes energy and construction, less-than-truckload carriers, pick-up and delivery and food and beverage. Murphy characterized the construction applications as those that would be termed light- to medium duty, or trucks that spend 5 to 10 percent of their time off road.
Michelin currently has two sizes in three load ranges: an 11R22.5 in a G and H load range and an 11R24.5 in the H load range. A 275/80R22.5 in the G load range will be offered this fall and two additional sizes are on tap for 2018.