Michelin Tweel Technologies has introduced a new 26-inch airless radial tire for UTVs.
Originally designed for military special operations on light-tactical vehicles, the Michelin X Tweel UTV 26x9N14 tire serves as a single unit that replaces pneumatic tires and removes the need for maintenance, spare tires or repair kits.
"You bolt on that product and that's it," said Justin MacLanders, business development manager for Michelin Tweel Technologies.
Initially, the tires will be sold as a fitment for the replacement market.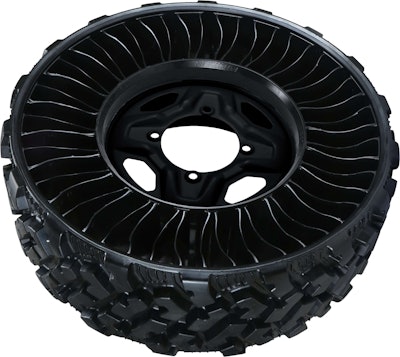 The Tweel tire was introduced commercially in 2012 for skid steer loaders, and the airless radial tires have since expanded to zero-turn mowers, stand-on mowers and golf carts. Now Michelin is turning to the UTV market, whose customers demand nonstop mobility, traction and freedom.
"UTV users operate these machines in arduous environments and extreme conditions where vehicles are exposed to rugged, jagged terrain and other hostile elements," said Olivier Brauen, vice president of Michelin Tweel Technologies. "The Michelin X Tweel UTV airless radial tire is a solution that will provide unmatched traction and uninterrupted vehicle mobility during long journeys or in remote areas where a flat tire can be problematic."
The new UTV tires are ideal for use in construction, landscape, quarry, mine, hurricane/tornado and other debris-laden areas where flat tires can cause serious and extreme interruptions.
The spokes are designed to dampen bumps, improving operator comfort yet having the stiffness needed for cornering and side-hill stability.
The Tweel tires have a 37 mph speed rating and can handle a maximum gross vehicle weight of 2,860 pounds.
The tires are available online or through the Michelin Tweel dealer network.
Customers can choose from three hub configuration that will fit two bolt patterns: 4×137 and 4×156. These fit a variety of UTVs, including the Kawasaki Mule and Polaris Ranger.
Additional hub configurations will be available with the 4×110 coming out later this year and the 5×4.5 in 2019.