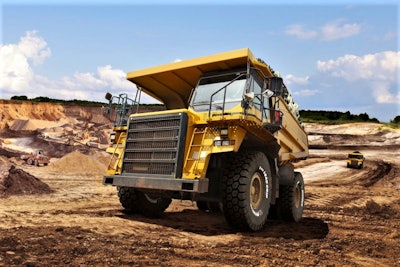 Michelin North America has introduced a pair of new tires for 40- to 80-ton payload trucks.
Dubbed the Michelin Extra Load Grip and Extra Load Protect, these 18.00R33 size tires carry a three-star load capacity rating as defined by the Tire and Rim Association and will allow users to increase loads or travel more distance per hour to maximize productivity.
The Extra Load Protect tire is designed for hard, sharp and abrasive soil conditions on flat, dry surfaces where the priority is protecting the tire against damage. It will carry up to 11 percent more load or increase travel distances at speeds up to 21 mph. Michelin claims a seven-percent improvement in tread life thanks to a greater volume of tread rubber and a better load distribution across the contact patch. The tire's interlocking blocks improve heat dissipation in the tread by up to 17 degrees Fahrenheit.
The Extra Load Grip works best in loose, soft or muddy ground conditions and on slopes where grip and traction are important. It can handle 11 percent more weight or an increase of 12 tons per load and offers a 5 percent improvement in wear life. A 30-percent increase in the tread's biting lug edges improve braking, cornering and accelerating. Likewise it is capable of speeds up to 21 mph thanks to cooler internal temperatures.
As measured in ton miles per hour (TMPH) the Xtra Load Grip shows an increase of 22 percent and 36 percent depending on the compounding compared to previous Michelin products. TMPH on the Xtra Load Protect is boosted 13.3 to 15.8 percent.