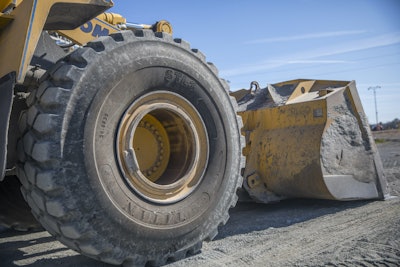 Titan International has added a new size to its STL3 lineup of tires for articulated dump trucks, wheel loaders and scrapers.
The new size, 875/65R29, was added at the request of customers in the construction, mining and quarry industries, the company says. The size addresses such challenges as rim slip that causes bead chafing and possible air loss. The tire has a dual-taper bead design and extra-wide steel bead to resist rim indexing.
Its E-3/L-3 nondirectional tread pattern and center-riding jib provide traction, smooth ride and long life, the company says. Its full-width shoulder lug provides lateral stability.
STL3 tires are available in cut-resistant and wear-resistant compounds, suitable for a range of conditions.
Titan now has seven sizes in its STL3 range. The 875/65R29 joins the 750/65R25 and 26.5R25 sizes with wear-resistant compounds. Four additional sizes are offered with cut-resistant compounds: 20.5R25, 23.5R25, 26.5R25 and 29.5R25.