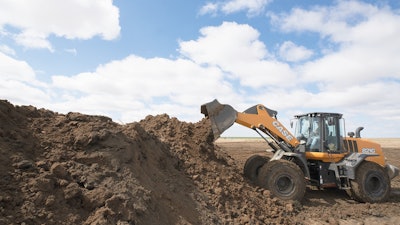 Case Construction Equipment
EquipmentWatch has named Case Construction Equipment's 821G as the medium wheel loader with the highest retained value for 2022.
With a five-year retained value of 80%, the 821G was 19 percentage points higher than the overall average for the category.
For the EquipmentWatch awards, the retained value is a prediction for the value of a piece of equipment five years from now. Analysis was limited to models still sold in 2022 to ensure these results can be applied to buying decisions today.
Retained values are often related to the concept of depreciation, a measure of how far a piece of equipment's value decreases over time. Retained values are a factor in equipment purchase or lease decisions, as some new equipment holds its value better than others.
According to EquipmentWatch, the 821G came out at the highest value over Liebherr's L550 XPower and Case's smaller 621G XT in the five years. EquipmentWatch calculates retained values using market data, depreciation standards and a proprietary algorithm. For more information on the methodology, click here. EquipmentWatch is owned by Randall Reilly, the parent company of Equipment World.
821G Overview
One of seven models in the G Series lineup, the mid-size 821G weighs in at 40,057 pounds.
It is powered by a 230-horsepower FPT engine with selective catalytic reduction (SCR) emissions technology. This means there is no diesel particulate filter (DPF) and no regeneration.
Four-speed operation and limited slip differentials come standard. An optional five-speed PowerShift transmission with lock-up torque converter provides faster acceleration and roading speeds up to 25 mph.
First introduced in 2016, Case's G Series wheel loaders received a slew of updates in May 2021, including factory-installed payload and tire monitoring systems, upgraded controls and a new touchscreen display.
Case also redefined power modes, added new electro-hydraulic parallel lift and upgraded its telematic features.
Using the new touchscreen display, operators can access machine settings and operational data. They also can adjust electro-hydraulic controls to independently set lift (boom) and tilt (bucket) responsiveness to smooth, moderate or aggressive.
The smooth setting allows for precise control for activities such as loading pallets of brick or block. Moderate is the factory setting, and aggressive is designed for high-demand applications.
Case went from four power modes in the previous model iteration down to two: Max and Smart. Full-throttle work can be performed in the Max mode. Using improved communication between the engine and transmission, the new Smart mode helps achieve smoother shifting for reduced tire wear and up to 10% fuel savings when compared to the Max setting, Case says.
The new electro-hydraulic parallel lift capability automatically maintains the angle and the position of the attachment to minimize the risk of the material shifting while loading or transporting. Activating the unit's ride control while using parallel lift also assists in material retention.
Three new color-coded configurable buttons, located on the right armrest next to the loader control, allow an operator to quickly engage pre-programed machine settings or functions. This can include the new payload and tire pressure management systems, lift and tilt control, rearview camera, differential lock or declutch.
An optional factory-integrated payload system is available on the G Series loaders. System readings are integrated into the touchscreen, providing bucket weights, pass counts, accumulated/running weight and job tracking data, allowing operators to precisely load each truck, Case says.
Working with Case's SiteWatch telematics platform, the payload system also tracks total loads and total material volumes over a period of time and can track history by customer, truck or material moved plus provide ticket histories for up to 18 months.
The enhanced SiteWatch telematics platform enables users to update software and clear codes remotely through the new SiteConnect Module and SiteManager app.