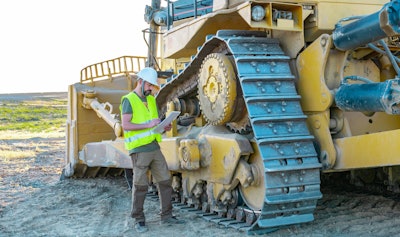 Getty Images
Price declines in diesel fuel, lumber and steel and other materials and services used in construction in December suggest a possible ease in inflation.
Construction input prices fell 2.7% in December compared to the previous month.
However, analysis of producer price index data by the Associated Builders and Contractors and the Associated General Contractors of America indicates that any relief may be short-lived, and contractors should not get complacent.
Material costs and an economic slowdown or recession were the most frequently listed concerns in a survey conducted by AGC and Sage.
"While producer price indexes for construction inputs fell in December, they still outpaced other inflation measures for the year," said Ken Simonson, AGC's chief economist. "In addition, some prices have already turned higher in January. Contractors are right to rank materials costs as a major concern for 2023."
Overall construction input prices are 7.9% higher than a year ago, while nonresidential construction input prices are 7.6% higher.
Simonson noted that the producer price index for inputs to construction, the prices charged by goods producers and service providers such as distributors and transportation firms, rose 7.2% in 2022 despite decreasing 1.8% from November to December. The year-over-year rise outpaced the 6.5% increase in the consumer price index, which he described as the best-known measure of inflation.
ABC Chief Economist Anirban Basu agrees that the data represents a positive development on the inflation front.
"This is both good and bad news," he said. "Recent consumer and producer price releases indicate that inflation is fading, though it remains well above the Federal Reserve's 2% target."
Should inflation continue to abate, and the Federal Reserve can stop increasing interest rates, the primary beneficiaries would be the interest rate-sensitive segments like real estate and construction.
Currently, contractors are maintaining their longest backlog since 2019, according to ABC's Construction Backlog Indicator.
He cautions that the decline may also reflect spreading economic weakness in the U.S. and other parts of the world.
"Moreover, there could be bad news on inflation in the months ahead," he said. "War continues in Eastern Europe and the commodity-use-intensive Chinese economy is in the process of reopening. Though there is evidence of improving supply chain functioning and moderation in input prices, contractors should not be tempted into complacency."
The one-month decline was driven by falling prices for fuel, lumber and steel, while other input costs rose. The producer price index for diesel fuel tumbled 28.7% in December; the index for lumber and plywood slumped 3.7%, and steel mill products slid 2.7%. In contrast, the index for ready-mix concrete jumped 1.4% for the month and 13.6% for the year. The index for architectural coatings such as paint rose 0.5% in December and 26.1% year-over-year. The index for copper and brass mill shapes climbed 1.5% for the month, and the index for aluminum mill shapes increased by 1.3%.
Simonson warned that some price declines are likely to reverse soon. He noted that steel producers have sharply raised prices in recent weeks for hot-rolled coil, the raw material for some construction steel. Also, major producers of insulation and tile have announced price increases for February. In addition, recent spikes in futures prices on commodities markets for copper and aluminum may signal higher costs for these products soon, Simonson said.
AGC officials also cited the "Buy America" requirement in the $1.2 trillion Infrastructure Law for potentially making it harder for contractors to find materials to complete infrastructure projects, raising the cost of those materials and leading to work delays.
"While most construction products are made in the U.S., very few meet the bill's extremely strict interpretation of American-made," said Stephen E. Sandherr, the AGC's chief executive officer. "Limiting the supply of materials available and issuing vague guidance for state and local officials to follow will only make it harder and costlier to complete needed infrastructure upgrades."