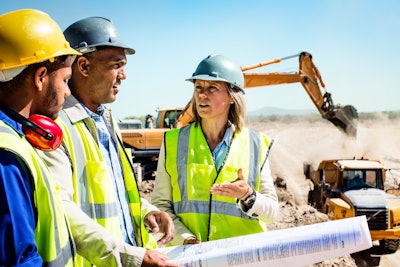 Getty Images
Ending a six-month streak of increases, total construction spending declined by 0.4 percent in December, even as industry job openings at the end of the month set a new high.
A separate government report showed there were 359,000 job openings in construction at the end of the year, a jump of 58,000 or 19% from a year earlier and the highest December total in the 23-year history of the data.
The 5% of industry-wide positions that were unfilled in December is the third highest level on record since 2000.
"While parts of the economy, like consumer spending, are beginning to show signs of weakness, demand for labor remains significantly elevated," said Associated Builders and Contractors Chief Economist Anirban Basu. "Economywide job openings increased for the first time since September and remain about 57% above pre-pandemic levels. The implication here is that contractors, who have been facing labor shortages for several years, must now compete with other industries for workers."
Associated General Contractors of America Chief Economist Ken Simonson noted the 413,000 job openings in December far exceeded the 217,000 workers hired during the entire month, which suggests contractors wanted to bring on board more than twice as many employees as they were able to find.
"The record number of job openings in construction compared to previous Decembers suggests contractors are bullish about their backlogs despite a dip in spending in December," he said.
Simonson suggested that some of the downturn in spending may be due to unusually bad weather shrinking the market.
Overall, construction spending, not adjusted for inflation, totaled $1.8 trillion at a seasonally adjusted annual rate in December, 0.4% below the November rate.
Spending on private residential construction decreased for the seventh consecutive month in December, by 0.3%. Spending on private nonresidential construction fell 0.5% in December, while public construction investment declined 0.4%.
Further analysis of the data released by the U.S. Census Bureau shows that national nonresidential construction spending decreased by 0.5% in December to about $943.5 billion for the month.
Spending fell monthly in 10 of the 16 nonresidential subcategories. Private nonresidential spending was down 0.5%, while public nonresidential construction spending was down 0.4% in December.
"Despite the decline, nonresidential spending is up 13.8% year over year, an increase outpacing both overall inflation (6.4%) and materials prices inflation (+7.6%)," said ABC's Basu.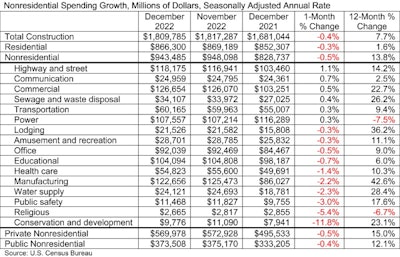 More than half of the increase in 2022 is due to increased activity in manufacturing, as "megaprojects" are starting, and commercial, which includes warehouses and distribution-related construction.
Spending varied among large private nonresidential segments in December, according to the reports.
Commercial construction increased by 0.4% and private power construction rose by 0.5%. Although up for the year, spending on manufacturing plants decreased by 2.2% in December.
Public construction results were also mixed in December. The largest public segment, highway and street construction, increased by 1.1% for the month. Investment also rose by 0.2% in transportation. However, spending declined by 0.3% for education construction.
Residential spending shrank due to a 2.3% contraction from November in single-family homebuilding. That outweighed increases of 3.2% in multifamily construction and 0.7% in additions and renovations to owner-occupied houses.
"While contractors remain reasonably confident, according to ABC's Construction Confidence Index, there is a reason for caution," Basu said. "Worker shortages remain a challenge for contractors, and elevated interest rates have increased borrowing costs, making certain projects unfeasible at the margins while also driving the economy toward a potential recession this year."
25,000 jobs added in January
Construction employment totaled a record 7,884,000, seasonally adjusted, in January, an increase of 294,000 jobs or 3.9% from a year earlier, exceeding the 3.3% rise in total non-farm employment.
Job openings in construction at the end of 2022 totaled 359,000, the highest December total in the 23-year history of the data. Simonson said that figure reinforced contractors' reports that they are seeking far more workers than they have been able to hire, despite the industry's large job gains over the past year.
According to the report released by the U.S. Bureau of Labor Statistics, the construction industry added 25,000 jobs in January.
"Construction employment and pay gains outpaced the economy as a whole in the past year, showing that demand for projects remains strong," Simonson said. "Most contractors would like to hire even more workers and are raising pay to attract them."
Per Simonson's analysis, pay levels in the construction industry continued to increase in January at a faster pace than in the overall private sector.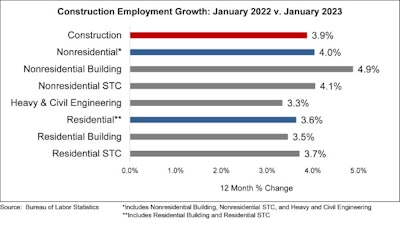 Basu pointed out that the jobs reports suggest the Federal Reserve still has more work to do.
"It is virtually impossible to reconcile today's employment numbers with other phenomena in the U.S. economy," he said. "America's labor market remains red hot despite falling retail sales, declining industrial production, bloated inventories and high-profile layoff announcements.
Interest rates continued to rise in response to the persistent and surprising strength of the nation's employment market.
"While contractors may be thrilled to hear that the labor market remains strong, associated upticks in borrowing costs increase the likelihood of a recession sometime later this year," Basu said.
He acknowledged that many contractors may shrug off such concerns given the current elevated backlog.
Recent surveys suggest that contractors plan to continue to hire and expand operations in 2023.
"The outlook may dim later this year as the cost of project financing continues to rise, setting the stage for what could be a meaningfully weaker 2024, at least in construction segments that are primarily privately financed," Basu said.
In a summary look, the average hourly earnings for production and nonsupervisory workers in construction rose 6.2% from $31.44 in January 2022 to $33.38 in January 2023. That increase exceeds the 5.1% increase in average pay for all private-sector production workers.
Based on the report, construction workers are earning an average of 18.1% more per hour than in the private sector.
The nonresidential firms added a total of 19,300 employees in January and 179,200 employees or 4.0% over 12 months. Those firms include specialty trades, which added 16,500 jobs, and nonresidential building, which added 4,000 positions. Heavy and civil engineering firms lost 1,200 jobs for the month.
In addition, residential building and specialty trade contractors together added 5,500 employees for the month and 114,600 employees, or 3.6 % over the year.