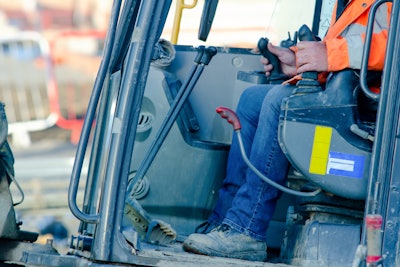 Getty Images
This article is based on the results of Equipment World's inaugural Heavy Equipment Operator Salary and Benefits Report. You can download the full report here.
Heavy equipment operators and managers of operators overwhelmingly agree on one thing: the younger generation doesn't want to work. That is among the findings from Equipment World's 2023 Heavy Equipment Operator Salary & Benefits Report.
The survey, conducted by Equipment World, was taken by 343 construction industry professionals from April 3-21, 2023. Of those, 208 were heavy equipment operators, and 135 managers of heavy equipment operators. Responses that did not fit the job title criteria were not included in the results, and the observations drawn from the results were limited to responses from qualified individuals only.
Participants across the U.S. answered more than 20 questions about pay, benefits, training, and workforce development.
An overwhelming 77% of operators and 84% of managers of operators say the lack of work ethic by the younger generation is the biggest reason companies are having a hard time finding talent. And it's leaving the current workforce spread thin. But not all of the comments placed the blame squarely on younger generations. Some pointed to a lack of awareness of construction as a viable career option and a lack of training for young workers.
"It's not that the younger generation doesn't want to work; it's that too many kids are not being shown the opportunities that exist working in the blue-collar world," said Edward Drake of Randsco Pipeline.
Glen Pyburn of Arthur Pyburn & Sons Inc. added, "It's very difficult to develop a good operator who has no mechanical ability and no time as a laborer."
It's a worrisome statistic considering the number of employees who will soon be aging out of the industry and the staggering 341,000 job openings in construction, as of March. The Bureau of Labor Statistics estimates the average age of a construction worker is 42. Equipment World's survey, however, indicated the average age of operators is even older.
On the survey, 82% of the respondents were 50 or older. Forty-four percent of respondents had more than 30 years of experience, and 29% had 21-30 years of experience.
And despite operators citing pay and benefits as the most important factor when choosing a new job, 37% of respondents say it's still insufficient. Or perhaps, not enough to make up for the long hours that the industry is known for. Among operator respondents, 21% – the highest response rate of any category – listed their annual pay, before taxes, including overtime, bonuses and incentives, as $100,000 or more. A total of 54% said they made between $50,000 and $90,000.
Another top factor for choosing a new job was location, followed by the scope of work.
P. Edward Archuleta of Perfecto Archuleta Construction says the higher wages brought on by inflation and a shortage of operators have been another challenge in attracting quality talent. "The good, qualified operators are being paid to stay in their current position, leaving a poor quality of operator available to hire."
Findings from the Associated General Contractors of America's 2023 Construction Hiring & Business Outlook show that pay in the industry has been rising. Average hourly wages for construction workers rose 6.1% from December 2021 to December 2022. This exceeded the 5% rise in average earnings for all private-sector production workers during the same period.
A majority of our operator respondents, 63%, say they have been with the same company for at least the last five years, and 33% say they have a clear career path at their current employer.
When operators are ready to make a career move, they tend to find their next gig by word of mouth (68%). Next was Indeed or other job posting sites (26%). Coming in third was going directly to a contractor's website. If there was ever a reason to invest in your local marketing efforts, this is it.
Getty Images
The Training Gap
Despite the shortage of skilled operators, continuing education and training ranked the lowest among operators when considering a new employer. Corporate culture was also at the bottom. Both of those factors, however, have ranked high in studies of younger workers and the companies they are attracted to.
[Related: Why Do So Many People Want to Work for This Contractor?]
With less of the younger generation exposed to careers in construction – due to the fewer vocational classes offered in high school or the social stigma of blue-collar work – company-provided training will likely become more necessary.
Half of all operator respondents said they had not undergone technical training for their role, and a quarter of respondents said they are encouraged to seek out their own training. Only 15% were provided training by an external facilitator by their employer, and even fewer said their employers (13%) offered a company-wide training curriculum for all employees. Another 6% said their employer provides access to OEM/supplier online or in-person training courses. Over 80% of operators surveyed were non-union.
Managers of operators more frequently cited internal training opportunities, with 56% saying operators have access to a company-wide training curriculum. Over one-third (34%) of managers said the company sends employees to training events or brings trainers to the facility, and more than a quarter (28%) said the company provides access to OEM/supplier online or in-person training courses. Less than a quarter (22%) said they encourage operators to seek out training on their own.
So, is the lack of available training and lack of interest in continuing education hurting the industry? It certainly stands out as one of the areas where management and employees were the most divided.
"There's very little help from the older generation," said one respondent.
"The younger generation lacks discipline and focus. They're very irresponsible about employment duties," said another.
As the labor gap continues to increase, as is predicted, contractors will need to consider proactively training new employees, paying more for the ones they have, adopting more technology to bridge the skills gap or all of the above and more.
Despite those challenges, the overall tone of the free comment section made it clear: there's a lot to like about the profession, with several respondents saying some form of, "I love what I do, and I wouldn't be happy doing anything else."
Want to see the full results of the survey? Download Equipment World's Heavy Equipment Operator Salary and Benefits Report, including data that was not included in this story.