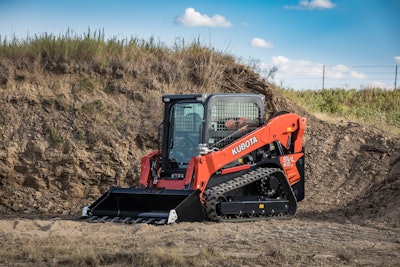 Kubota
Quick Data is a snapshot of new and used compact track loader sales trends from Randall Reilly's EDA equipment financing data, TopBid auction price service and EquipmentWatch market trend reports.
Economic uncertainty, high interest rates, and improved availability of long-term rentals may all be taking a bite out of sales of the ever-popular compact track loader.
Sales of new financed compact track loaders were down year-over-year from May 1, 2022 to April 30, 2023, according to Randall Reilly's EDA equipment financing data. Used financed skid steer sales were also down during the period.
Financed new compact track loaders sales dropped 6%, while sales of financed used machines fell 4% during the same period.
Kubota sold the highest volume of financed new compact track loaders during the period. Approximately 27% of total skid steers sold were Kubota, followed by Cat (22%) and Bobcat (21%). Topping the list of new financed sales were the Kubota SVL75-2, Kubota SVL97-2 and Cat 259D3.
[Related: Kubota Launches Next Generation of its Top-Selling CTL, the SVL75-3 (Video)]
Bobcat took the top spot for the most financed used skid steers with 26% of all sales. Cat again came in a close second with 25%, and Deere took third with 17%. At the date we examined the data, the top-selling used models were the Deere 333G, Cat 259D and Kubota SVL95-2S.
During this period, there were more buyers of new CTLs in Texas than in any other state (6,366). Buyers of new skid steers were also prevalent in Florida (3,147) and Missouri (2,380).
The top states for those financing used CTLs were Texas (1,814), Missouri (1,338) and Tennessee (743).
EDA data is compiled from state UCC-1 filings on financed construction equipment. EDA continually updates this data as information comes in from each state.
Used Compact Track Loader Prices Stabilize
Used compact track loader prices stayed relatively flat during the 12-month period from May 1, 2022 to April 30, 2023, according to Randall Reilly's EquipmentWatch market trend data.
The average price tag for a used CTL was $58,473 in May 2022 compared to $59,603 in April 2023. The average age of used CTLs also remained steady, inching up from 5 years to 5.2 years. The average age and price were calculated on 127,810 resale listings during the period in the EquipmentWatch database.
"While prices for compact track loaders have risen more than any other product category in the past five years, they have started to level out," says Sam Pierce, sales engineer at Equipment Watch.
"When comparing May 2019 to May 2023, we see a 35% increase in price on the secondary market, much more than the industry as a whole, which comes in at a 17% increase. The biggest price hikes occurred between May 2020, which shows the lowest prices of any month in the last five years, and mid-2022. The periods from May 2020 to April 2021 and May 2021 to April 2022 both showed about 17% year-over-year growth. Since then, CTL prices have remained more or less stable with May 2022 to April 2023 coming in at 5% year-over-year growth."
EquipmentWatch
defines fair market value (FMV) as the monetary value of an asset that can be expected in a transaction with a single seller and single buyer, neither of whom is under any compulsion or time restriction to complete the transaction. FMV for heavy equipment is most closely associated with the private, resale market, as opposed to the public, auction market.
Compact Track Loader Auction Prices
Looking at the top 20 compact track loaders sold for the 12-month period of June 1, 2022 to May 31, 2023, in terms of auction price, Caterpillar dominated the competition.
As reported by Top Bid, Cat accounted for 16 of the top-20 price spots. Deere, ASV and Bobcat were the only other manufacturers to crack the charts.
The top bid during the period went to a 2021 Cat 299D3XE with 349 hours. It was sold at a Deanco Auction Company sale in Philadelphia, Missouri, on July 20, 2022, for $145,000.
The second-highest price paid was $120,000 for a 2022 Deere 331G with 91 hours at a Joey Martin Auctioneers sale in Tuscaloosa, Alabama, on January 6, 2023.
In total, 837 CTLs were sold at auctions tracked by Top Bid during this time, with an average price of $40,583. (This does not include any units sold for less than $5,000.)
EDA, Top Bid and EquipmentWatch are owned by Randall Reilly, parent of Equipment World.