Getty Images
With responses from over 1,000 construction professionals, Procore Technologies examined the current construction climate and adoption of construction technologies in a recent report.
The company recently released its How We Build Now: Technology and Industry Trends Shaping U.S. and Canadian Construction analysis.
"With this report, we aim to empower industry stakeholders with valuable knowledge and actionable strategies to thrive in the evolving construction landscape," said Anthony Frattali, Procore's head of region, North America.
Depending on which economic forecast is considered more accurate, there may or may not be a recession still on the horizon for either the U.S. economy or at least portions of the construction industry economy for 2023 or into 2024.
However, despite the seeming uncertainty among economists, 90% of the construction firm owners and management responding to Procore's survey indicated they were confident about industry conditions.
Broken down by company type, specialty contractors are more conservative about the construction outlook when compared to general contractors and owners.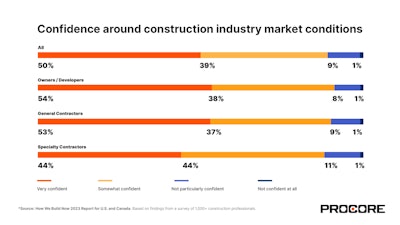 The report states that 81% of owners and 79% of general contractors expect the number and value of projects completed by their organization to increase in the next 12 months compared to 67% of specialty contractors.
Considering the Infrastructure Investment and Jobs Act as well as the 2022 CHIPS and Science Act, it is civil, infrastructure, energy, and utility contractors who remain the most confident at 79%, about an increase in projects over the next 12 months. Commercial and multi-family residential construction is right behind at 73% and 71% respectively.
Despite persistent challenges such as the increasing cost of materials and supply chain issues, 74% of respondents expect the number and value of projects completed by their organization to increase in the coming year.
More than one-third of contractors reported that the volatile material costs have eroded their profit margins, while another 38% indicated higher project costs because of those fluctuations.
Approximately 40% of respondents were looking into the localization of supply chains to better manage the fluctuations.
Not surprisingly, the hiring and retention of a skilled labor force remain among the top challenges for construction firms. Nearly one-third of respondents to Procore's survey were unable to take on projects in the past three to six months due to labor shortages.
A similar number also expressed concerns that their most experienced employees would be retiring within the next few years, resulting in a substantial loss of valuable knowledge.
Contrasting those challenges, 84% of those surveyed expressed confidence in having enough workers with the right skills to meet their organizational needs in the next 12 months.
Also, concerning the workforce, the report indicates that organizations are placing greater emphasis on workforce well-being through fostering an inclusive, diverse, and safe environment. Procore states that 45% of its respondents have a diversity and inclusion policy in place already, and 43% plan to implement one in the next 12 months.
More than half of the contractors Procore surveyed indicated that the industry could do a better job of leveraging existing data to simplify payments and improve insurance programs.
General contractors reportedly feel the strongest about this with 64% stating a need for improvements, compared with 55% of owners and 47% of specialty contractors.
Additionally, 38% of owners report their frustration that invoiced amounts regularly do not match the amount of work completed.
Nearly half of the contractors indicated that their cash flow problems resulted from delayed payments.
Despite various innovations, approximately 36% of the owners and contractors reported frustration with obtaining construction insurance quotes.
The firms reported that the insurance industry has been slow to utilize data to reflect the technology-induced risk mitigation which is being implemented.
On average, respondents to Procore's survey said approximately 12% of their total costs on a project relate to insurance.
Digital Transformation
According to Procore, there is a significant digital transformation underway in the construction industry.
However, on average, more than a quarter of contractors still used paper-based processes within their workflow.
Slightly over that number, about 27% of owners consider themselves to be a digital-first business and 44% say they are well on their way to adopting digital formats and workflows.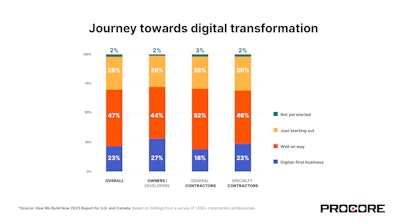 The report indicates that construction firm owners/decision makers recognize that technology provides benefits, particularly early on during the planning and preconstruction stages of a project.
Preconstruction was marked as one of the top choices for improving productivity and profitability within their business by 32% of respondents.
About 22% of respondents feel they need to start looking at existing technology to understand what's working and what's not, while another 23% want to consolidate their investment in technology to bring down costs.
Embracing Data
Construction businesses are realizing the benefits of efficient data management, with 43% of respondents stating they would make better decisions if they had greater access to real-time and historic information on project performance.
Additional data insights include:
45% of respondents indicated that they have a foundation to learn from data but without a dedicated data team.
21% noted that their data mostly exists in spreadsheets or paper.
26% have highly data-driven decision-making facilitated by dedicated data teams.
Data can help the industry gain never-before-seen insights, promote better decision making and create a culture of safety and well-being for their teams," Frattali said. "Better access to real-time and historic data means that organizations can work proactively instead of reactively. As the industry continues to transform, data will be paramount to driving innovation, improving efficiency, and achieving sustainable growth."