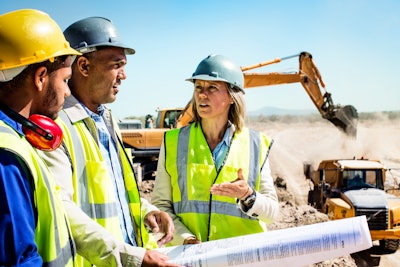 Getty Images
At the national level, nonresidential construction spending dropped 0.2% in May.
Separate analysis of federal data on construction spending by the Associated General Contractors of America and Associated Builders and Contractors suggest that increases in manufacturing and single-family residential construction offset downturns in other nonresidential segments including infrastructure.
"The data for May show there has been no letup in the feverish pace of manufacturing construction but a very mixed picture for other project types," said Ken Simonson, AGC chief economist. "There have been strong year-over-year increases in most categories, but it remains to be seen if the market is now cooling."
Discussion of a potential recession has been mixed across the board among construction industry economists. Numbers from May did not appear to assist in any determination.
Total construction spending, not adjusted for inflation, equaled $1.925 trillion at a seasonally adjusted annual rate in May. This was a 0.9% increase from April and 2.4% year-over-year.
Spending declined monthly in nine of the 16 nonresidential subcategories.
Private nonresidential construction slipped 0.3% from April, while public nonresidential inched up 0.1% in May. Both segments remain significantly up year over year, with private at 20.5% and public at 12.3% over 12 months.
"Nonresidential construction spending declined in May, ending a streak of 11 consecutive monthly increases," said Anirban Basu, ABC chief economist. "While spending is up more than 17% over that span, manufacturing-related construction has accounted for the majority of that increase."
He noted that excluding the manufacturing segment, nonresidential construction spending is barely outpacing inflation, up just 6% over the past year.
Manufacturing construction continued its rise, jumping 1.0% for the month and 76.9% year-over-year. Not far behind, office construction, which includes data centers, rose 0.7% and 6.7%, respectively.
Overall, commercial construction spending – comprising warehouse, retail, and farm projects –slumped 1.8% in May. In addition, private power construction was down 0.8% and private healthcare construction tumbled 2.1% for the month.
Association analysis shows that public construction spending was mixed in May. The larger infrastructure categories declined.
Highway and street construction declined 0.4% from April and public spending on transportation facilities, such as airports, transit, and passenger rail, slid 0.8%.
However, there were monthly increases of 1.1% in spending on sewage and waste disposal and 2.6% on water supply. Conversely, there was a 3.8% decline in conservation and development, such as river and harbor projects.
"Contractors are eager to build the infrastructure Congress has approved," said Stephen E. Sandherr, the association's chief executive officer. "It's up to federal officials to make sure these projects can get built by issuing timely and clear rules that are consistent with Congressional intent."
AGC officials are urging the Biden administration to clarify the rules applying to U.S.-made construction materials, apprenticeship programs, and tax credits to fund promised energy projects.
The association suggests that the lack of clarity is keeping contractors from bidding on projects or proceeding on ones that have been awarded.
Records show that education-related construction projects were flat for the month.
Private residential spending surged 2.2% for the month but remained 11.6% below the May 2022 levels.
The 2.2% rise for the month in private residential spending was led by a 1.7% increase in single-family homebuilding, the first gain since April 2022. However, the single-family residential spending remains over 11% below the May 2022 levels.
Comparatively. multifamily construction dipped by less than 0.1%, its first decline since July 2022.
"Contractors remain relatively upbeat, according to ABC's Construction Confidence Index, and ongoing strength in manufacturing and publicly financed segments justifies that confidence," Basu said. "Unfortunately, conditions may prove challenging in other segments over the next few quarters. Interest rates remain elevated and are likely to rise at least once more over the second half of 2023, exacerbating already tight credit conditions and ultimately limiting construction activity."