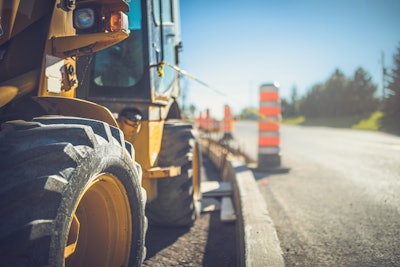 Getty Images
While most contractors expect to maintain solid backlogs and margins over the next 12 months, Associated Builders and Contractors Chief Economist Anirban Basu says they shouldn't take current U.S. economic performance for granted.
"The economy has managed to remain resilient in the face of higher borrowing costs, bank failures and war in Ukraine. It's really quite remarkable," Basu told attendees during the July 26 Construction Executive 2023 Mid-Year Construction Economic Update and Forecast. "Other parts of the world don't have these types of economics. And, of course, these kinds of economic conditions support construction."
The self-proclaimed pessimist maintained that the U.S. economy would enter a mild recession within the next year. And for the construction industry, that will mean an uneven distribution of work by sector.
[Watch: Mid-Year Forecast: Where Does the Construction Economy Go from Here?]
The Era of the Mega Project
With the Fed announcing another interest rate hike just minutes before Basu's presentation began, he cautioned that the availability of financing for projects will continue to become more onerous as the year progresses. The rising rates that have helped to cool inflation could have a lag effect on construction project starts – specifically, investor-led developments.
"Developer-driven marketplaces tend to be deeply impacted," said Basu. "Developers are having a more difficult time lining up financing. Multi-family building permits, which is another leading indicator, have been shrinking recently – not because there isn't demand for apartments but because of project financing."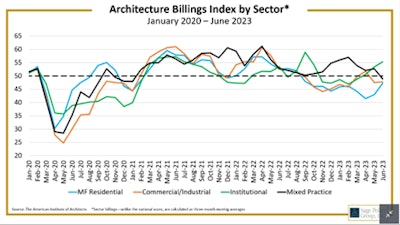 Bright spots for the industry tend to be those propped up by government investment such as infrastructure, education and manufacturing – with Basu calling it "the era of the mega project." The single-family home-building market has also outperformed expectations amid high mortgage rates.
Sector variances aside, backlogs have remained stable over the past several years, as reflected in both a survey of participants on the webinar and ABC's most recent backlog indicator.
"There's no real indication that construction firms are generally becoming any less busy. Many of you will tell me you have record backlog at your company with more work than you know what to do with," said Basu.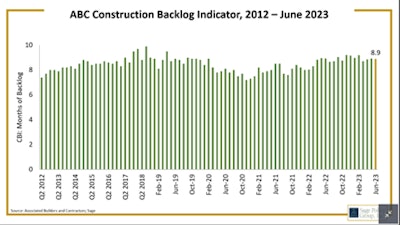 Material Prices Improve
With so many headwinds facing the economy, Basu admits he would not have predicted the drop in material prices.
Material prices fell 4.9% between June 2022 and June 2023 – with Basu saying, "This is not just disinflation; this is deflation and an indication of an improving supply chain."
Markets with the hottest economies – Tampa, Orlando, Nashville, Austin and Phoenix – will continue to pay demand-based pricing.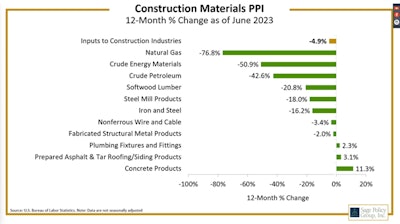 Less Labor – and Less-Skilled
Attendees and Basu would agree that the biggest obstacle for the industry is worker availability.
"An incredible fraction of your workforce is set to retire in the next five to 10 years, so we'll have to live with that even as we're trying to rebuild our nation's infrastructure and recreate our supply chains."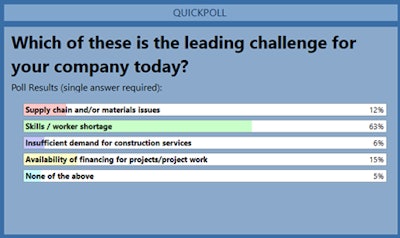 Currently, almost 400,000 construction jobs are available – 77% higher than the 2015 to 2019 average.
"Part of the issue here is immigration policy," said Basu. "This is another way in which talent has been subtracted from the labor force."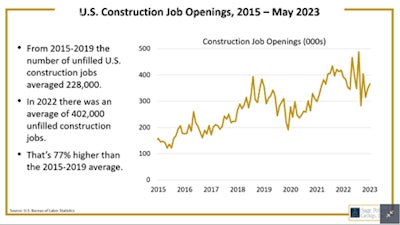 The shortage of skilled labor is driving up construction costs, and as Boomers have retired, the amount of productivity the industry is getting out of the less-skilled current workforce has declined. With such rampant worker and skill shortfalls, Basu sees wage growth as the most concerning source of inflation for the broader economy.
Recessionary Conditions Will Prevail
In closing, Basu reinforced his downturn predictions, saying, "I think a recession is coming within the next 12 months. I think it gets worse before it gets better."
His reasoning? Greater consumer stress, slowing job and wage growth, tighter credit conditions due to regional bank failures, resuming student loan repayments and a weak global economy.
"To really get this U.S. economy rejuvenated, [the Fed] needs to start cutting rates, but I don't expect that to happen until some point next year."
While infrastructure investment should help carry segments of the construction market for the next five to seven years, the economist fears a combination of budget issues could take a toll on the industry in the near future.
"The Medicare Trust Fund is insolvent in 2031 and the Social Security Trust in 2023. And Congress has failed to find a permanent funding source for infrastructure. Once these IIJA monies have been wiped out, you can see a real depression in construction spending. While the 2020s will be a period of phenomenal spending on infrastructure, the 2030s may not."