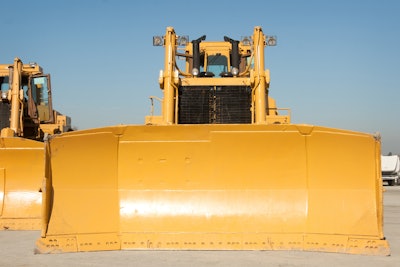 Getty Images
Total construction starts rose 17% in July, kicking off Q3 with a seasonally adjusted rate of $1.2 trillion, according to the Dodge Construction Network.
Nonbuilding starts drove the increase, rising 38% on the back of the $12 billion first phase of the Rio Grande LNG facility in Brownsville, Texas. Comparatively, residential starts were up 20%, and nonresidential lost 6%.
"Construction starts have plateaued and are making little headway," said Richard Branch, chief economist for Dodge Construction Network.
While rising to a seasonally adjusted rate of $1.2 trillion, he said, the average monthly level over the last 12 months has been $1.1 trillion.
"The question would be is the glass half full or is the glass half empty?" said Branch. "Your perception of the market depends on which markets you are playing into."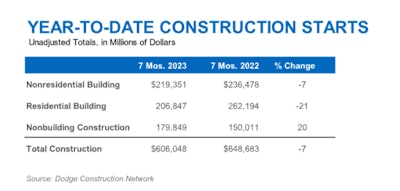 Year-to-date through July 2023, total construction starts were 7% below that of 2022. Residential and nonresidential starts were down 21% and 7%, respectively; however, nonbuilding starts were up 20% on a year-to-date basis.
On a year-over-year rolling sum analysis ending July 2023, total construction starts were 3% higher than that of 2022. Nonbuilding starts were 21% higher, and nonresidential building starts gained 16%. Conversely, on a 12-month rolling basis, residential starts posted a 17% decline overall.
Branch noted that the public-funded markets such as manufacturing, infrastructure, and lab projects are doing increasingly well. In addition, he said the numbers suggest the early stages of recovery in the single-family residential market.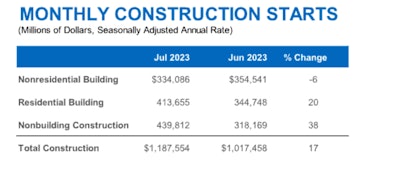 "If you're in those markets, you're feeling pretty good," he said. "The private sector, such as a commercial, hotel, and office, as well as multi-family in particular, despite the gain this month, I think you're probably not feeling very positive about your outlook right now, and I think as we go through the end of this year that storyline is going to continue to play out."
Branch noted that through the latter half of 2023, private markets will likely be increasingly weak, and public works should gain stability, showing a little bit of growth by year's end.
"The lag in nonresidential building projects entering the planning stage will slow starts as the year progresses, which should be offset by rising infrastructure activity," Branch said. "By the time we're at the end of the year, construction starts will be flat just sitting on this plateau."
Nonbuilding construction
The Dodge report indicates that nonbuilding construction starts surged in July, climbing 38% to a seasonally adjusted annual rate of $440 billion.
However, most of the increase was due to a single large LNG facility. Without that project, nonbuilding starts would be down 7%.
Similarly, a large dock facility pushed environmental public works projects to rise by a dramatic 62%. Highway and bridge starts lost 4% in the month.
After a surge in June due to the groundbreaking for the new Buffalo Bills stadium, miscellaneous nonbuilding starts plummeted 71%.
Year-to-date through July, nonbuilding starts have gained 20%.
According to the Dodge report, utility/gas plants rose 23%, miscellaneous nonbuilding starts were up 37% and highway and bridge starts gained 14%, along with environmental public works rising 19%.
On a year-over-year basis, total nonbuilding starts were 21% higher than the 12 months ending July 2022. Over that same 12-month period, utility/gas plant and miscellaneous nonbuilding starts rose 9% and 32%, respectively. Highway and bridge starts were up 22%, and environmental public works rose 25% on the 12-month rolling sum basis.
Other than the LNG facility in Texas, the other largest nonbuilding projects to break ground in July were a $2.8 billion concrete dock at the Pearl Harbor Naval Shipyard in Hawaii, and the $813 million first phase of the Bellefield Solar farm and battery facility in California City, California.
Nonresidential building
According to the report, nonresidential starts fell 6% in July to a seasonally adjusted annual rate of $334 billion.
Manufacturing starts dropped 39% in July. Institutional starts were down 11%, with education, dormitories, and religious the only categories to show an increase. The report states that commercial starts rose 11% on the back of gains in warehouse and parking starts, offsetting a decline in office and hotel starts.
On a year-to-date basis through July, total nonresidential starts were 7% lower than that of 2022. Institutional starts gained 8%, while manufacturing and commercial starts fell 9% and 31%, respectively.
On a 12-month rolling analysis ending July 2023, total nonresidential building starts were 16% higher than that ending July 2022.
While down on a month-to-month basis, manufacturing starts are 24% year-over-year, institutional has improved 20% and commercial gained 8%.
Dodge reported the $405 million Envision AESC BMW components manufacturing plant in Florence, South Carolina, the $370 million Wisteria at Warner Center office building in Los Angeles, California, and the $277 million first phase of an airside concourse at Orlando International Airport in Florida as some of the largest non-residential projects breaking ground in July.
Residential building
Residential building starts rose 20% in July to a seasonally adjusted annual rate of $414 billion. Single-family starts gained 2%, while multifamily starts shot 62% higher.
Since January, total residential starts are down 21%, with single-family starts 25% lower, and multifamily starts down 14%.
A year-over-year analysis, residential starts were 17% lower than in 2022.
According to the Dodge Network report, single-family starts were 25% lower, while multifamily starts were down only 0.1% on a rolling 12-month basis.
Top-end multi-family structures breaking ground in July included the $1 billion Clarkson Square condo and apartment building in New York City, the $365 million Queensbridge Collective residential tower in Charlotte, North Carolina, and the $358 million Oasis Hallandale tower in Hallandale Beach, Florida.