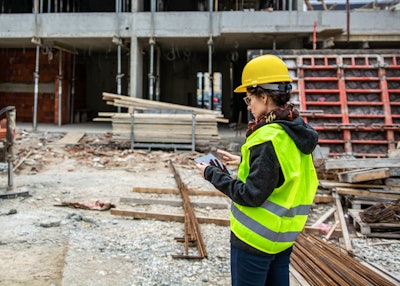 Getty Images
Job openings in the construction sector reached a record high for September as total spending within the industry inched up 0.4% in the same timeframe, according to analysis of U.S. Census Bureau data.
"It is encouraging that most categories of construction, including homebuilding, are growing," said Ken Simonson, Associated General Contractors of America chief economist. "But the numbers would be even more impressive if the industry didn't have so many unfilled job openings."
The government report shows job openings climbed to 438,000 on September 30, a record high for the month.
Meanwhile, the industry was able to hire only 294,000 employees in the entire month, an 18% decline from September 2022. Simonson said the huge number of openings was a sign the drop in hiring was due to a dearth of applicants, not projects.
"The construction industry added jobs for the seventh consecutive month in October," said Anirban Basu, Associated Builders and Contractors chief economist. "Over the past year, hiring has been concentrated in the nonresidential segment, with especially strong employment growth in the nonresidential building category. This is in large part due to the unprecedented surge in manufacturing megaprojects."
Construction spending, not adjusted for inflation, totaled $1.997 trillion at a seasonally adjusted annual rate in September, 0.4% above the August rate.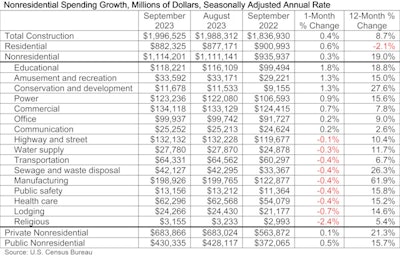 According to an analysis of the government data, spending on private residential construction rose 0.6%, with a 1.3% increase in single-family spending and a dip of 0.1% in multifamily projects.
Within the nonresidential categories, spending was down in 9 out of 16. Private nonresidential spending increased 0.1%, while public nonresidential construction investments were up 0.5% and rose 0.4% in September.
Mixed results were seen within the remaining larger nonresidential segments between August and September.
"Nonresidential construction spending increased for the 16th straight month in September," Basu said. "While some private categories, including power, commercial and amusement and recreation saw healthy month-over-month increases, publicly financed construction accounted for more than 72% of September's rise. Given increased federal infrastructure spending and exorbitant financing costs for private construction, that dynamic should remain firmly in place over the coming months."
The data indicates that spending on manufacturing plants declined 0.4 percent and highway and street spending slipped 0.1%. However, investments rose by .09% for power, oil, and gas projects and 0.7% on commercial projects, consisting of warehouse, retail, and farm construction—rose by 0.7%. Lastly, education was up 1.8 percent.
pending jumped 1.8%.
Despite the small decrease, Basu noted that manufacturing construction remains the nonresidential sector's outperformer.
He said spending in the category is up 62% over the past year, accounting for more than 40% of the year-over-year increase in nonresidential construction. He anticipates spending in that segment will only continue with several industrial megaprojects ongoing.
Where is my labor?
A total of 23,000 jobs were added to the construction industry in October as unemployment increased to 4% compared to 3.9% for all industries.
According to the federal data, construction employment in October totaled 8,033,000, seasonally adjusted, an increase of 23,000 or 0.3% from September. Over the past year, the sector has added 219,000 jobs, or a 2.8% gain.
In October, residential building and specialty trade contractors added 13,700 employees and a total of 55,600 (1.7%) for the year.
Nonresidential construction employment increased by 8,400 positions on net, with growth in all three subcategories in October. This includes nonresidential specialty trades adding 4,200 positions, while nonresidential building and heavy and civil engineering added 2,600 and 1,600 jobs, respectively. F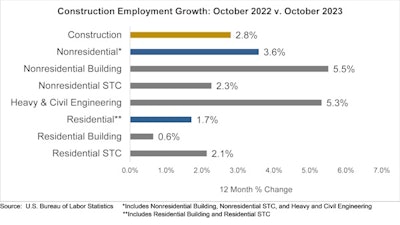 As indicated by Basu, for the year, nonresidential employment has risen 3.6% to 163,300 jobs.
The unemployment rate among jobseekers with construction experience was 4.0% in October, one of the lowest October rates in the 24-year history of the data. A separate government report released earlier this week reported that there were a record-high 438,000 job openings in construction at the end of September, far exceeding the number hired that month and a further sign of contractors' difficulty in finding qualified workers.
Average hourly earnings for production and nonsupervisory employees in construction increased twice the rate of economywide wages. Covering most onsite craft workers as well as many office workers, construction wages have climbed over the year by 5.4% to $34.64 per hour. Construction firms in September provided a wage "premium" of nearly 19% compared to the average hourly earnings for all private-sector production employees.
"While contractors' demand for labor remains robust, the rising cost of labor, pushed upward by worker shortages, remains a pressing issue for the industry," said Basu.
"With over half of contractors intending to increase their staffing levels over the next six months and fewer than 7% intending to downsize, according to ABC's Construction Confidence Index, labor shortages should continue to push wages higher over the next few quarters."
Simonson added that despite the fact that pay for hourly craft workers in construction is rising faster than for production employees, contractors are still struggling to find enough skilled workers "Both residential and nonresidential construction employers want to hire even more workers," he said.
Simonson pointed out that efforts in Congress to exclude the construction industry from the H-2B visa program will make it even harder for firms the find enough workers to keep pace with demand.