If you operate construction trucks you may fall under a new mandate requiring electronic logging of your drivers' hours – and time is running out to comply. Failure to do so could lead to fines and lower safety scores. Here's how to know if your business is at risk and what you can do about it.
By Tom Jackson and Don McLoud
"It's like a nightmare," says Brian Winkler, president of Wm. Winkler Company, a civil and concrete construction business in Newman Lake, Washington. "You're hoping it's one of those things where you can close your eyes and make it go away. But that's not going to be the case."
What's keeping Winkler up nights is a new federal mandate that requires all truck drivers who currently keep a paper Record of Duty Status to use an electronic logging device (ELD) – a system that records truck drivers' time behind the wheel using GPS signals and cellular communications. The mandate, published by the Federal Motor Carrier Safety Administration (FMCSA), goes into effect December 18, 2017.
Mandating ELDs, FMCSA argues, will help ensure truck drivers don't violate the Hours of Service (HOS) regulations by cheating on paper logs. The intent is to keep tired drivers in big rigs off the road, whether they be long-haul truckers or construction workers driving vocational vehicles.
In fact, more than 230,000 construction operations (contractors, material producers and equipment dealer/rental companies), running more than 1 million trucks could fall under the mandate, according to RigDig Business Intelligence, a sister company to Equipment World that tracks truck and driver inspections. Over a recent 24-month period, nearly half a million of those trucks received inspections resulting in 1.6 million driver or vehicle violations and 59,000 HOS violations.
Come December, if you fail to have compliant ELDs on your trucks, you risk one more potential violation and the fines and driver out-of-service violations that come with it.
Fortunately, there are many solutions available to help you comply, from the simple to the robust, and many offer benefits well beyond ELD compliance (see "What to know before you buy," page 10).
Despite the risks, many operations have not given the mandate much thought, says Thomas Reader, director of marketing with J.J. Keller. "I don't think there is a lot of awareness at this point. It's going to be a rude awakening in December when they get pulled over for an inspection and don't have an electronic log."
Inspection result in a violation? There's a 31% chance it's for Hours of Service.

Estimated Fleet Size
Total number of inspections that resulted in a violation
HOS violations
% of HOS violations in total number of inspections
1-9 trucks
55,993
30,063
54%
10-65,41618,11428%
50 trucks and over
73,202
11,524
16%
Total
194,611
59,701
31%

The smallest guys are more likely to be the hardest hit with an HOS violation, according to data from RigDig Business Intelligence. Operations with an estimated fleet size of 1-9 trucks received more than 50 percent of the HOS violations. Within our defined universe of construction operations, 18,082 companies had an inspection that resulted in an Hours of Service violation.
It's complicated
ELD mandate aside, the HOS rules themselves can be convoluted, especially when it comes to governing construction truck operators – those who drive vocational trucks, crane trucks, concrete pump trucks, and mechanics trucks that are licensed to travel on paved Department of Transportation roads.
"In a long-haul truck, the driver is going to be in the truck eight to 10 hours a day," says Willie Schlacks, president of ES Track, and an ELD provider. "In the construction world, you have guys who are jumping in and out of the trucks all day. One week they might be hauling for five days and off for two, or six and one. There is a lot more complexity. There is not a straightforward schedule for one driver and one truck."
Under the HOS rules, interstate drivers of commercial motor vehicles are limited to 11 hours of driving within a 14-hour daily on-duty window. During the 11-hour limit, drivers must take a 30-minute break after eight hours of continuous driving. (Drivers using the exceptions and extensions explained below need not take the break.) If your company operates trucks every day of the week, cumulative on-duty limits of 70 hours in eight days apply. If you shut down for at least one day a week, the 60 hours in seven days limit applies. Drivers can restart their hours on the 60- or 70-hour limit after taking 34 hours off.
States toughest on HOS violations

State
Number of HOS violations
Lanes miles of national highway system roads per state
Frequency of HOS violations by lane miles traveled
1
IA
3,773
10,781
35.0%
2
AR
2,346
8,685
27.0%
3
KS
2,733
10,813
25.3%
4
IN
1,905
10,449
18.2%
5
AZ
1,860
10,410
17.9%
6
CO
2,023
11,568
17.5%
7
CT
567
3,844
14.7% (tie)
8
NY
2,856
19,414
14.7% (tie)
9
MO
2,399
16,413
14.6%
10
TX
7,338
51,768
14.2%
States least strict on HOS violations

State
Number of HOS violations
Lanes miles of national highway system roads per state
Frequency of HOS violations by lane miles traveled
50
MA
184
7,382
2.5%
49
DE
36
1,381
2.6%
48
NJ
254
9,337
2.7%
47
RI
30
1,046
2.9% (tie)
46
IL
593
20,402
2.9% (tie)
45
CA
1,142
33,068
3.5%
44
MI
674
17,214
3.9%
43
OH
744
17,644
4.2%
42
AK
209
4,723
4.4%
41
TN
696
13,229
5.3%

Dividing the number of Hours of Service violations by the number of lane miles of national highway system roads in each state, the states where our defined segment is more and less likely to receive an HOS violation come to the forefront.
Exemptions and exceptions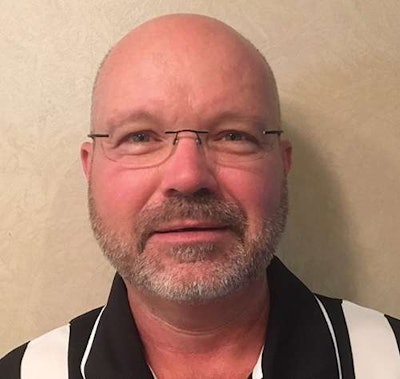 "I can't tell whether they have a trailer hooked up or not…It's easier to say, 'You're the driver of a crew cab truck, so you log in.'"
– Bob Beck, Reliable Constructors
Recognizing contractors' unique work cycles, the FMCSA created exemptions and variations to the HOS rules for construction truck operators, such as a 24-hour restart for dump and cement trucks operating within 50 miles of the work location and the ability to stretch on-duty time to 16 hours once every seven days.
Most recently the FMCSA granted an exception for interstate concrete pump truck drivers. They no longer have to comply with the 30-minute rest break provision. Instead they can count on-duty attendance time toward the 30-minute break. This is to prevent them from having to shut down the truck in the middle of a concrete job.
FMCSA also offers exemptions allowing certain operations, including some in construction, to operate without ELDs:
• Drivers operating truck model year 1999 and older vehicles, many of which don't have the engine electronic control modules necessary to track hours electronically;
• Drivers operating under the time-card exception to the hours recording rules – the 100- and 150-air-mile radius short-haul exceptions – exclusively;
• Drivers who occasionally keep a log book but do not do so for more than eight days in any 30-day period.
Further muddying the issue are state DOTs that have different, sometimes additional intrastate rules. For instance, Texas, California and Florida allow for more drive time (12 hours) and on-duty time (15 or 16 hours) in their daily HOS limits. Their cumulative limits are higher for those in-state haulers, too, and some states treat those limits slightly differently. There is some question whether all ELD makers' systems will be compatible with these state requirements. If your operation falls under the intrastate HOS rules, check with your ELD supplier to be sure you get the solution you need.
Log books: 40% of HOS violations

Log book violation
24,162
40.5%
Violations of daily driving limits
6,342
10.6%
State/local HOS violation
438
0.7%
Violations of cumulative weekly/more than weekly cycle limits
276
0.5%
All other HOS violations
28,483
47.7%
Total
59,701

Log book violations – either not having a log book, not keeping a log book current or having false information on a log book – made up 40 percent of the Hours of Service violations in our defined segment of construction operations.
Bigger trucks, more HOS violations

Heavy-duty (Class 6-8)
53,419
Medium-duty (Class 3-5)
4,945
Unknown
1,337
Total
59,701

Heavy-duty trucks made up 89 percent of the vehicles receiving an HOS violation within our defined segment.
Pickups not immune
Additional confusion surrounds three-quarter-ton pickups. When a pickup used in interstate business operations hooks up to a loaded trailer and the gross vehicle weight rating goes over 10,001 pounds, it becomes a DOT-regulated vehicle under federal interstate rules, says Pete Allen with MiX Telematics.
But if that truck stays within a 150 air-mile radius (100 air-miles for Class 7-8) of its home base, it is exempt from the ELD mandate. Exceeding the 150 or 100 air-mile radius more than eight times a month, however, requires an ELD, making for uncertainty when tracking trucks remotely. Another complicating factor: Many states exempt such lighter combos from complying with intrastate hours and ELD rules by raising the starting weight to 18,001 or 26,001 pounds.
Given the nature of the work Reliable Constructors does with its Dodge Ram 3500 pickups, "I can't tell whether they have a trailer hooked up or not," says Bob Beck, safety manager at the Sorrento, Florida, company. Whether or not the law requires it, the company may develop an internal policy that has drivers log in even if they are not pulling a trailer. "It's easier to say, 'You're a driver of a crew cab truck, so you log in,'" Beck says.
Where do you start?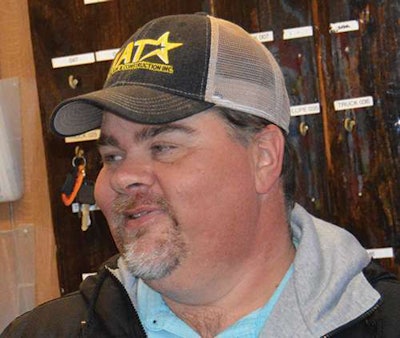 "Driver fatigue is one of the big causes of accidents. Hopefully with the 30-minute break built in and the hours of service, that will cut down on driver fatigue and accidents."
– Chris Cionek, KAT Excavation & Construction
When he began shopping for ELDs, Beck went beyond the sales pitches and talked to the companies' technical experts. He wanted to make sure the device would suit his fleet's needs.
"Our drivers work primarily with the crews during the week, so they're not over-the-road truckers," he says. "The challenge comes in for us at the end of the work week when they're coming back home. They might have to manage the number of hours they work versus hours they can drive so they don't go over the 14-hour max."
Keep your company's operational needs in mind when selecting from the dozens of ELD products on the market. The FMCSA maintains a list of "certified" ELD manufacturers, but the government doesn't do the certification.
Manufacturers are self-certified. "The responsibility is on the carrier (customer) to buy a compliant solution," says Josh DeCock, director of product management with Pedigree Technologies.
At press time, there were about 50 ELD suppliers listed on the FMCSA site. The names of some of the biggest companies were noticeably absent; however, most are expected to list their products soon. FMCSA has grandfathered current-generation devices for two years beyond Dec. 18, so being on the list isn't a crucial distinction for devices. Just make certain any supplier you're considering that is not listed has a plan for getting there within the two-year period.
Field trials
Once you've settled on a supplier, do a field test for a month or two. "Make sure your drivers know how to use it and are comfortable using it," says DPL's Tony Nicoletti. "They drive trucks, they're not electronic wizards."
Chris Cionek, dispatcher supervisor for KAT Excavation & Construction in Sour Lake, Texas, is testing ELDs on some of his fleet. The company's current telematics provider simply linked a phone app to the trucks' computers to meet the ELD mandate.
"It's very easy," Cionek says. "All the driver has to do is put in a user name and a password. The screen pops up. They just tap a few buttons, and they're ready to go."
Experts recommend leaving an additional six weeks or so to deploy the system company-wide to work out any bugs and to make sure your team is properly trained.
Beck is ahead of most. He started his research in December. In May, he had narrowed his choice to two vendors and was testing equipment on some of the company's trucks. It will be a scramble, but he expects to be ready in time for the mandate's December 18 effective date.
"We have to be ready," he says. "That's why we're trying to get a jump on it early and work out the bugs."