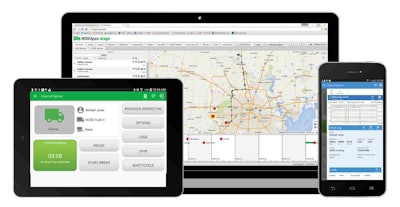 The construction software developer HCSS announced this week that it has jumped into the electronic logging device (ELD) market.
As we reported in the June issue of Equipment World magazine, starting December 18, ELDs will be required for all commercial motor vehicles that currently use Hours of Service (HOS) paper logs to record a driver's time behind the wheel. The law, created by the Federal Motor Carrier Safety Administration, covers many types of on-road construction and vocational trucks including dumps, mixers, truck mounted cranes, service trucks and others.
The new HCSS eLogs product includes a plug-in device for the truck which communicates through a mobile app on the driver's phone or tablet. The plug-in device syncs with the driver's phone or tablet automatically via a Bluetooth connection and does not require the driver to manually connect with the device when switching between multiple trucks. This feature is particularly useful for drivers of construction trucks who may be hopping in or out of cabs and different trucks all day.
In addition to automatically logging drive times, the HCSS eLogs system has an interface that enables drivers to enter date, fill out pre- and post-trip driver vehicle inspection records (DVIRs) and identify and report violations simply and easily. Managers and dispatchers get this information automatically via the web for tracking, maintenance and record-keeping purposes.
And as you might expect, the eLogs system integrates with HCSS's established suite of products and telematics solutions, which provide equipment and truck management and analytics capabilities to drive down costs and improve uptime and productivity.
For more information on the ELD mandate and who is and who isn't required to install an ELD, check out our special report here.