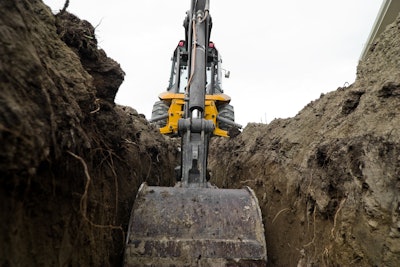 Getty Images
Editor's Note: This story was updated April 19, 2023, with the latest OSHA figures that 39 people died while working in trenches or excavations in 2022.
2022 is the deadliest in 18 years for fatal trench collapses.
The U.S. Occupational Safety & Health Administration reports that 39 workers died in trenching and excavation work, which is more than double the number in 2021 and the most since 2005, when 39 construction workers died in trench collapses, according to data from the 2019 CPWR study "Recent Trenching Fatalities: Causes and Ways to Reduce"; the U.S. Bureau of Labor Statistics; and OSHA..
"Unfortunately, we are seeing a sudden increase in the number of workers dying in trench and excavation collapses," said OSHA Area Director Casey Perkins in Austin, Texas, after a contractor was cited in the state following the deaths of two workers in a collapse in June.
The statistics for the first six months of 2022 had already indicated it would be a deadly year when OSHA reported that by the end of June, 22 workers had died in trenches ­– more than all of the trench-collapse deaths in 2021.
Deaths in trenches continued into the second half of the year. In announcing proposed six-figure penalties in December for two sets of fatal trench cave-ins in Texas, OSHA also reported that 35 deaths in trenches and excavations had occurred as of November 30. (OSHA investigations, which can take up to six months, are still underway on some of these cases to confirm their causes.)
The U.S. Department of Labor reports 15 workers died in trench collapses in 2021.
Recent media reports show that the final month of 2022 also proved deadly, with four separate trench-collapse deaths occurring in December. The incidents occurred in Colorado, Illinois, Georgia and Arkansas.
In looking at data from OSHA and the U.S. Bureau of Labor & Statistics from 2011, it appears that 2022 was the deadliest year. Previously, 2016 had been the deadliest of that period for trench and excavation collapses, according to OSHA and BLS statistics.
During that year, OSHA made a similar announcement about an alarming number of trench deaths, after 23 workers reportedly died in trench collapses. BLS statistics indicate that the number of deaths in trenches and excavations in 2016 reached as high as 33, but it's not clear if all were deaths due to "trench collapses," or if some died by other means inside a trench or excavation.
OSHA often cites the BLS statistic that 166 workers died in trench cave-ins between 2011 and 2018. That indicates an average of about 21 deaths each year.
Big penalties in Texas
After announcing the alarming increase in trench deaths in the first half of 2022, OSHA said it planned to crack down.
Most recently it issued two sets of proposed six-figure penalties for two fatal incidents in Texas:
On June 24, two workers were in a 10-foot-deep trench in McKinney during a residential sewer line repair when it collapsed. One worker was able to escape, but Paulin Sanchez, 41, died after being buried alive. OSHA cited Bandera Utility Contractors of Frisco with four violations:
failure to provide adequate cave-in protection;
failure to inspect the trench before workers entered it;
having a portable ladder that did not extend at least 3 feet above ground level;
and using a damaged extension ladder for entering and exiting the trench.
In all, Bandera faces proposed OSHA penalties of $165,952.
On June 28, two workers in a 23-foot-deep trench with standing water at the bottom died in Jarrell when a large section of it collapsed, crushing the men under thousands of pounds of soil and rocks, OSHA says. Jimmy L. Alvarado, 20, and Jose Vargas Ramirez, 39, perished in the disaster while they were installing sewer lines. WBW Construction LLC of Georgetown was cited with six violations:
failure to provide adequate cave-in protection;
failure to provide an exit point within 25 feet inside the trench;
improper use of ladder (two extension ladders were tied together);
failure to inspect the trench before workers entered;
and failure to train workers in first aid.
WBW faces proposed OSHA penalties of $250,272 and has also been placed in the agency's Severe Violator Enforcement Program.
Deadly December
According to media reports, four other deaths from trench collapses occurred within the last month of 2022, which could bring the year's death toll even higher. The cases have not yet undergone complete OSHA investigations to confirm their causes.
December 27, Aurora, Colorado – 23-year-old Marcos Guerro-Badillo died in a 12-foot-deep trench.
December 12, Buffalo Grove, Illinois – Nikodem Zaremba, 27, co-owner of Rooter Solutions, died at the hospital after a trench cave-in while he was performing sewer repair.
December 12, Jonesboro, Arkansas – Three workers were trapped in a trench collapse when repairing a damaged cable. One worker escaped. Austin Neth, 31, died, and Matt Buckley, 39, was injured.
December 9: Smyrna, Georgia. Edwin Barrayo, 43, died in a trench while repairing a basement leak at a duplex in the rain.
{Related content: How to Prevent Death from Trench Collapse}