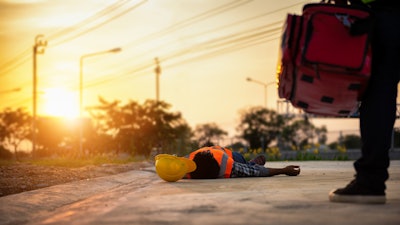 Getty Images
Editor's Note: This story was updated August 2, 2023.
Contractors can expect to see more inspections of jobsites for heat-related illnesses, under a new directive from President Joe Biden.
On July 27, Biden called on the U.S. Department of Labor to issue the nation's first-ever Hazard Alert for Heat. The White House says that will include more DOL inspections to protect workers from extreme temperatures. The DOL responded soon after by issuing the hazard alert and said the Occupational Safety & Health Administration "will intensify its enforcement where workers are exposed to heat hazards, with increased inspections in high-risk industries like construction and agriculture."
"As part of the alert, the Department of Labor will provide information on what employers can and should be doing now to protect their workers, help ensure employees are aware of their rights, including protections against retaliation, and highlight the steps the Occupational Safety and Health Administration (OSHA) is currently taking to protect workers," a White House press release says.
"Additionally, the Department of Labor will ramp up enforcement of heat-safety violations, increasing inspections in high-risk industries like construction and agriculture, while OSHA continues to develop a national standard for workplace heat-safety rules."
In response to the announcement, the American Road and Transportation Builders Association says its members "are increasingly likely to be inspected by OSHA, and any inspection – even one instigated for another type of hazard – could include examinations for heat hazards."
The association offers contractors a "Heat Illness Prevention Plan" template that contains checklists to follow best practices, aligning with OSHA heat abatement recommendations.
Biden's directive follows an announcement in April 2022 of a National Emphasis Program for Heat Hazards, with plans to double the number of OSHA inspections in industries targeted as the most hazardous, which includes construction.
The new White House directive comes amid record-setting heat across large sections of the U.S. and a new law that takes effect September 1 signed by Texas Governor Greg Abbott that prohibits local ordinances requiring mandatory water breaks for construction workers, such as in Dallas and Austin. Those cities mandate 10-minute breaks ever four hours for construction workers.
Biden planned to meet with the mayor of San Antonio, a city that has been considering a local water-break ordinance for construction workers, and the mayor of Phoenix, Arizona, to discuss how the sweltering temperatures have impacted their cities.
The Biden administration notes that "since 2011, more than 400 workers have died due to environmental heat exposure, and thousands more are hospitalized every year. The Hazard Alert will reaffirm that workers have heat-related protections under federal law."