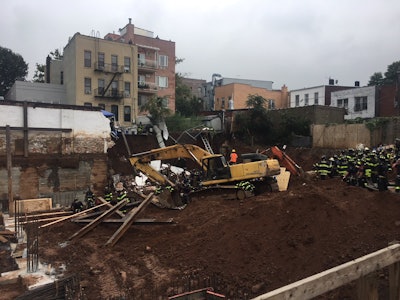 Fire Department of New York
A former construction company owner convicted of criminally negligent homicide after a worker was killed in an excavation in 2018 in New York City has reached a settlement with the U.S. Occupational Safety & Health Administration stating he will not return to construction work and will pay a $50,000 penalty.
Jiaxi "Jimmy" Liu was convicted in March of criminally negligent homicide. He also was convicted of fraudulent practices in violation of worker's compensation laws, fourth-degree city criminal tax fraud and related counts by Brooklyn Supreme Court Justice Danny Chun. He is scheduled for sentencing on the criminal charges on September 27 and faces a maximum of eight to 16 years in prison.
The settlement with OSHA involves the agency's civil citations in 2019 against Liu's former company, Brooklyn-based WSC Group, after the death of 47-year-old Luis Almonte Sanchez. WSC contested the citations.
OSHA announced last month that it had reached a settlement with WSC, which Liu owned. The settlement reduces the initial penalties of $63,647 for one willful and two serious violations to $50,000, to be paid in 29 monthly installments.
It also states WSC has stopped operating as a construction company, no longer has any employees and will not resume construction work.
Liu "will not be an owner, officer, manager or supervisor of any company that performs construction work," the settlement reads.
Should Liu return to construction work, the settlement says, OSHA will "immediately collect the full original penalty of $63,647."
"This settlement affirms OSHA's citations, which found that this employer knowingly failed to construct the trench protection system properly and did not use other safeguards that would have prevented a worker's death in a cave-in," said OSHA Regional Administrator Richard Mendelson in New York. "It also confirms that neither WSC Group LLC nor its owner will ever engage in construction work again."
Fatal collapse
Sanchez died September 12, 2018, measuring an area to perform formwork in a 9-foot-deep excavation for an underground parking garage on 39th Street in Sunset Park.
Part of an adjacent masonry wall and the excavation's support system collapsed, trapping Sanchez. He was struck by one of the underpinning pin sections, which weighed more than 15,000 pounds, and was buried beneath debris, according to Brooklyn District Attorney Eric Gonzalez.
Before the collapse, WSC Group had been warned about dangerous conditions by workers and a nearby resident, according to the D.A. They reported that the masonry wall beside apartment buildings was moving and needed further bracing and that the patio and garage of a resident who lived beside the rear wall had caved in.
Work, however, continued, with truckloads of dirt continuing to be removed. It was also raining heavily, causing the soil to become more unstable.
"The excavation was too deep, the underpinning system wasn't installed properly, and safe bracing procedures were not followed," Gonzalez said in 2019 when announcing the criminal charges.
The foreman on the project, Wilson Garcia Jr., was convicted of fourth-degree criminal mischief in relation to Sanchez's death. He is scheduled for sentencing October 11 and faces a possible sentence of up to one year.
Gonzalez said that Liu was responsible for giving instructions to Garcia and other workers on site, and Garcia was the designated the "competent person" who was supposed to identify hazards and keep workers safe. The two failed to follow any design plans "leading to hazardous conditions at the site," the D.A. said.
On top of the charges related to Sanchez's death, WSC lied to the New York State Insurance Fund about its employees and did not file taxes between 2015 and 2018.
Two codefendants previously entered guilty pleas in that case ahead of Liu's conviction for homicide and tax and worker's compensation fraud.
Jia Rong "Tommy" Liu, 52, of Brooklyn pleaded guilty to petit larceny, and Cindy Chai, 45, of Staten Island, to tax fraud. Tommy Liu is scheduled for sentencing October 18.