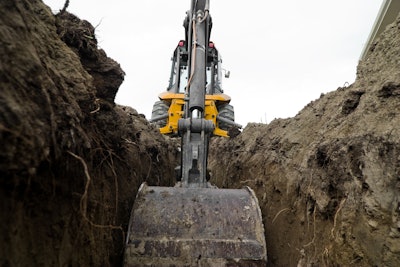 Getty Images
A Mississippi telecommunications infrastructure company faces proposed penalties of $218,759 after three workers were in a trench collapse in Arkansas, one of whom died.
Another worker was hospitalized, and a third worker escaped with minor injuries.
Southern Diversified Technologies Inc. of Jackson, Mississippi, is cited with five violations, which it is contesting, according to the U.S. Occupational Safety & Health Administration.
On December 12, 2022, three workers were in a 6-foot-deep trench working on damaged fiber-optic cable in Jonesboro, Arkansas. Two of the workers were sitting cross-legged in the bottom of the trench locating damaged fiber-optic lines. The other worker was handing tools back and forth to another employee outside the trench.
After about three hours, the trench caved in, and then a secondary collapse occurred five minutes later. The worker handling the tools escaped, while the other two were buried. Rescue workers were able to save one of the workers, who was treated at a nearby hospital. But the remaining worker, 31-year-old Austin Neth, died by asphyxiation and crushed ribs.
OSHA cited Southern Diversified Technologies with five violations:
Workers were not trained on trenching hazards. This is a willful violation, OSHA's highest level, which the agency defines as "the employer either knowingly failed to comply with a legal requirement (purposeful disregard) or acted with plain indifference to employee safety."
No cave-in protection. This is a serious violation, which OSHA defines as "the workplace hazard could cause an accident or illness that would most likely result in death or serious physical harm, unless the employer did not know or could not have known of the violation."
No inspection of the trench by a competent person before workers entered. Serious violation
No protection from loose soil falling from the trench's walls. Serious violation
No safe way to exit and enter the trench. Serious violation