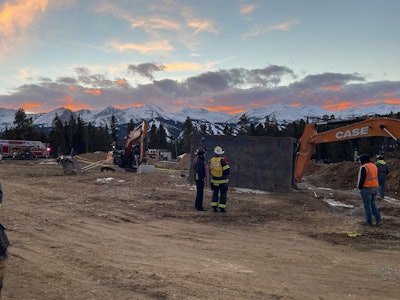 Red, White & Blue Fire Protection District
A Colorado contractor who pleaded guilty in August to reckless manslaughter for the death of an employee in a trench collapse in 2021 has been sentenced to 90 days in jail and four years of probation.
Peter Dillon, 54, pleaded guilty August 3, 2023, after being charged January 26 with reckless manslaughter, a felony. A Summit County Court judge handed down the sentence November 9, which also includes 300 hours of community service, according to the District Attorney's Office for the 5th Judicial District.
The former owner of A4S Construction of Vail was charged following the death of employee Marlon Alfredo Diaz, 23, who was installing a sewer line November 16, 2021, at a residential construction site overlooking the Breckenridge Ski Resort. Two other workers were also in the trench but were able to escape unharmed.
Inspectors with the U.S. Occupational Safety & Health Administration determined there was inadequate cave-in protection, among other violations. On December 20, 2021, OSHA inspectors also observed a similar violation of workers on the same construction site in a section of a trench that did not have cave-in protection.
"Between August and December 2021, the employer routinely assigned workers to work inside trenches that were not protected from cave-ins by an adequate protective system," according to OSHA's citation issued May 13, 2022.
A4S was issued penalties totaling $450,000. Dillon contested the violations, and the penalties were reduced to $100,000, according to OSHA online records.
"Our investigation found that this employer willfully sent workers into unprotected trenches at a site with a history of cave-ins and continued to expose workers to the same conditions even after the fatality," said OSHA Area Director Amanda Kupper in Denver at the time of the citation.
OSHA issued the following violations against A4S on May 13, 2022:
("Willful violations" are ones in which the employer either knowingly failed to comply or acted with plain indifference to employee safety. "Serious violations" are those when the workplace hazard could cause an accident that would most likely cause death or harm, unless the employer did not know or could not have known of the violation.)
Failed to use cave-in protection. Willful violation.
Failed to train workers on trench hazards. Willful violation.
Failed to provide a safe way for workers to exit the trench. A ladder should be available at least 25 feet from workers, but in this trench, it was 90 feet from workers. Serious violation.
"Business owners and supervisors have a responsibility to properly train and protect their employees from unsafe job conditions, and this tragedy was 100% preventable," said District Attorney Heidi McCollum after the sentencing. "Employers like Mr. Dillon who take shortcuts to save money at the expense of the safety of their employees will be held accountable, and employees should not have to work in dangerous situations just to keep their jobs."
During the sentencing hearing, Dillon read a statement, according to the Summit Daily News, which said in part: "This tragedy has affected me greatly, which I know means little in the face of what the Diaz family has gone through. I know I can never repair the damage done. I can only apologize for my failures." He also said, according to the Summit Daily News, that he should have better managed the supervision of his construction sites and that he thinks about Diaz and his family every day.