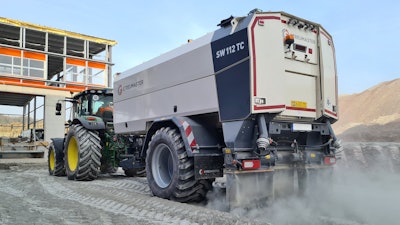 Streumaster
Streumaster, a member of the Wirtgen Group, has unveiled its next generation of binding agent spreaders for soil stabilization and cold recycling.
The new TC models are towed by trailer, while the new MC models are mounted onto carriers, such as trucks, dumpers and tracked vehicles. The spreaders feature a high-speed filling device on both sides, self-cleaning dosing sluices and a new control panel.
The two large filling connectors at the rear come standard, so silo trucks can drive up close to fill the container, even when space is limited or in moving traffic. An improved high-speed pneumatic filling device and a new container design enable binding agent to be filled at up to 2 tons per minute per connector. An optional automatic filter system can also be fitted for dust-free filling.
The spreaders feature fully automatic volumetric dosing independent of the travel speed for reliable and consistent discharge, the company says. The optional WeighTronic weighing device is designed to deliver correct and precise discharge. The spreading quantity is also automatically readjusted if there should be a deviation from the required value, according to Streumaster.
The self-cleaning dosing sluices improve spreading efficiency and accuracy, and the spread rate can be individually adjusted for each of the three partial spreading widths, the company says.
A new multifunctional control panel combines all the control elements into a single unit, displaying an overview of all machine functions. The 12-inch touchscreen can be customized with a split-screen function when using the camera/monitor system. Operators can set up and save operating parameters and function keys.
The spreaders can also be equipped with Wirtgen Performance Tracker for analyzing and documenting the jobsite.