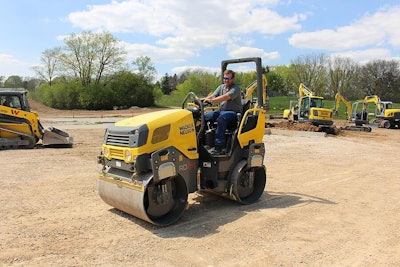 Wacker Neuson
EquipmentWatch has named Wacker Neuson's RD28-120 as the vibratory tandem-drum compactor with the highest retained value for 2022.
With a five-year retained value of 73%, the RD28 was 14 percentage points higher than the overall average for the category.
For the EquipmentWatch awards, the retained value is a prediction for the value of a piece of equipment five years from now. Analysis was limited to models still sold in 2022 to ensure these results can be applied to buying decisions today.
Retained values are often related to the concept of depreciation, which is a measure of how far a piece of equipment's value decreases over time. Retained values are an important factor in equipment purchase or lease decisions, as some new equipment holds its value better than others over time. This could mean more money in your pocket when it comes time to trade it in.
RD28-120
Wacker Neuson's 2.8-metric-ton-class tandem vibratory compactor features a three-point articulated pendulum joint designed to provide consistently even weight distribution. Its compact size enables it to fit in confined spaces.
The work platform absorbs vibration, and the controls are easy to access through the graphical display, which provides all machine functions in view at all times, according to Wacker Neuson. The operator also has a clear view of the drums and 360-degree visibility with fewer mirrors and no rearview camera, the company says.
The overhang over the edge of the drum begins high up for greater curb clearance and allows compaction to the edge of higher walls, according to the company.
Quick specs
Engine: 24.8-horspower Kubota Tier 4 Final
Operating weight: 5,942-7,518 pounds
Height: 69 inches
Width: 51.6 inches
Length: 99.6 inches
Max travel speed: 6.3 mph
Compaction force: 7,194-9,667 pound-feet
Vibration frequency: 51-65 Hz
Amplitude: .0177 inches