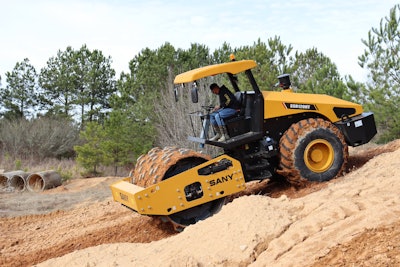 Sany
Sany calls the new SSR120HT its "high roller" – that's because the "HT" on the model name for the single-drum soil compactor stands for "high traction."
The roller features dual-drum propulsion, with a dedicated pump to drive the drum and a dedicated pump to drive the rear. That enables it to climb steep slopes and traverse tough terrain that might cause single-propulsion compactors to stall, the company says. It boasts 60% gradeability in front and 55% in the back.
The roller comes standard with an 84-inch-wide padfoot drum. Its three-piece removable shell kit can be changed out for a smooth drum.
The compactor can be equipped with Leica's intelligent compaction at the dealership.
Sany takes the motto, "Fully loaded is the new standard." The SSR120HT is no different, with brand-name components such as a 145-horsepower, 4.5-liter Cummins engine, limited-slip differential Dana axles and Danfoss hydraulics. "When you can pair that with an affordable machine, it's a win-win," said Foster Ladlee, Sany portfolio manager for road machinery, from the company's ConExpo booth. "A lot of guys are not too worried about the brand of the roller; they just need to get compaction done."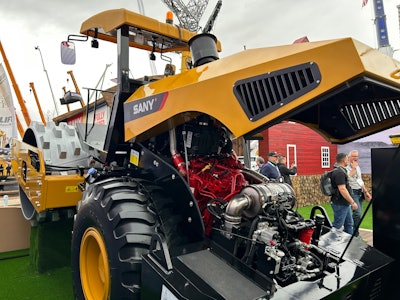 Sany has also not been facing the order delays many manufacturers have, which has helped boost sales as customers of other brands have come to them for the first time, Ladlee says. Orders on Sany's new rollers are taking less than two months to fill, he says.
"You hear about other OEMs not being able to provide enough machines. Some guys are coming to us and just saying, 'We need a roller. ... We don't care whose it is.'"
Other standard features on the SSR120HT include an enclosed cab with HVAC, heated air-suspension seat and full-color LCD monitor. The cab is certified for ISO, FOPS and ROPS. Maintenance points are accessible at ground level.
Sany has also kept operation simple. "That's usually the low man on the totem pole on the jobsite that's running these," Ladlee says. "It's not your seasoned excavator operator. You need to have these easy to run ­– minimal buttons, very simple."
Quick specs:
Drum width: 84 inches
Engine: 145-horsepower Cummins (Tier 4 Final/European Stage V)
Operating weight: 26,103 pounds
Vibration frequency: 32/36 Hz
Nominal amplitude: 1.8/0.9 inches
Excitation force: 62,947/40,016 pounds