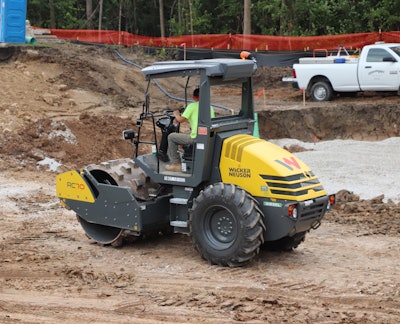 Wacker Neuson
Compactors are often the simplest machines to operate on the jobsite yet also among the most important when it comes to ensuring a quality soil base or pavement.
In this report, we take a look at some of the advancements OEMs are making to their rollers, such as compaction monitoring devices, all-electric power, and features to make them easier for new operators.
Monitoring soil strength
"Ride-on soil compactors have come a long way with regards to technology," says Luke Sevcik, product application and training specialist, Wacker Neuson.
"One key to their improved efficiency is the ability to monitor soil strength. This can be done at the operator's workstation, on a laptop or through a dedicated app."
The operator's display gives real-time results, which can be color coded and may include audible alarms. Data sent back to the office can be used for managing the current and future projects.
Soil strength monitoring identifies trouble spots where compaction is inconsistent with other areas. These areas may remain softer than others, but often the problem is overcompaction. The goal is to have uniform soil strength throughout the area to ensure uniform support for whatever comes over the soil, such as asphalt or concrete paving.
Soil strength monitoring increases uniformity; it also improves efficiency by optimizing the number of passes. This reduces fuel and labor costs and reduces wear and tear on the machine.
Proving soil compaction via soil strength monitoring may meet the requirements of the contract. Some entities may still require proving with a penetrometer, of which several types are available.
Wacker Neuson has a full line of tandem- and single-drum rollers as well as its RTLx-SC3 trench roller, which is articulated, has tandem drums and is remote controlled.
Its RC70 soil compactor is less than 5 yards long and is the shortest roller in its class, which makes it easy to maneuver in tight spaces, the company says. The 7-ton toller has an ergonomic platform designed to reduce vibration, three-point articulated pendulum joint and hydraulic traction control.
Volvo DD25 Electric and a concept model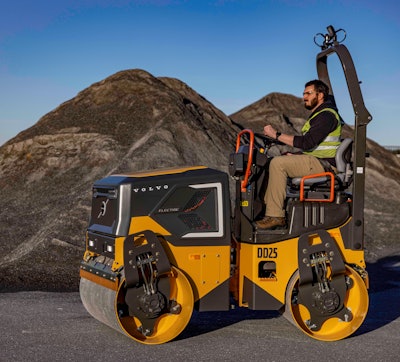 Volvo CE unveiled the new DD25 Electric at ConExpo, adding it to its existing 14-model lineup of asphalt compactors. The DD25 Electric is expected to be available in select markets in Q1, 2024. This double-drum model offers a zero-exhaust emission option for small projects such as street repair, driveways and parking lots. It is the first Volvo CE-produced electric machine designed specifically for the asphalt industry.
Volvo CE has a host of electric-powered excavators and compact wheel loaders. The electric driveline of the DD25 Electric is based on that found in the ECR25 Electric compact excavator and L25 Electric compact wheel loader, which were launched in 2020.
The DD25 Electric offers 24 kilowatts of power, which is 30% more than the conventional Volvo DD25B. The additional power provides better overall response and better performance on grades while retaining full power at altitude. Frequency is adjustable from 3,500 vibrations per minute/55 Hz to 4,000 vpm/67 Hz. With the internal combustion engine of a conventional machine replaced by maintenance-free batteries and motors, maintenance requirements – and costs – are dramatically reduced.
Charging architecture is shared with the ECR25 Electric and L25 Electric. The integrated on-board charger provides charging from 0% to 100% in as little as three hours, depending on AC level. An optional off-board DC fast charger cuts charge time to just over an hour and the ability to top off the system during lunch breaks. Duty cycle is expected to last a full shift, depending on the type of job and the intensity of the work.
While providing many benefits to owners and operators, the DD25 Electric also advances Volvo's progress toward electromobility and its desire to build a more sustainable construction future. It is Volvo CE's ambition to reach net-zero value chain greenhouse gas emissions by 2040. This, in turn, is part of Volvo Group's goal of having at least 35% of its total range of vehicles fully electric by 2030.
Before its electric roller, Volvo unveiled a single-drum asphalt compactor concept model, the CX01, in September 2021. The CX01 can be operated by remote or entirely autonomously. It is fitted with both a diesel engine and an energy storage system allowing operation in diesel-only, hybrid or full electric mode. The CX01 is not yet commercially available.
The single drum is actually two independent halves known as a split-drum design. The compactor is kept upright by an advanced self-balancing control system. The CX01 is one example of the output of the Concept Lab family of prototype machines intended to push the boundaries of traditional design.
But the CX01 is not founded only on engineers' imagination. It also addresses key points for owners and operators. Remote machines keep operators away from heat, vibration, noise and other detrimental elements. A fleet of CX01 compactors could be in coordinated use on a project, dramatically reducing production time and costs. Those CX machines could communicate with each other and also with other machines on site. The CX01 can be matched with Volvo's Co-Pilot system so that all work can be handled remotely using a touchscreen interface. Rolling pattern and other factors can be adjusted in real time in response to changes in mat density and temperature. Volvo CE offers a number of compaction packages, including Compact Assist for Asphalt with Density Direct, which provides operators with real-time density calculations of the surface being compacted to within 1.5% accuracy of core sampling.
Cat compactors
Caterpillar's line of 2- to 3-ton GC utility compactors was released to the North American market in 2021 and includes CB2.5 GC, CB2.7 GC and CC2.7 GC models.
The rollers for medium-duty jobs come standard with auto idle shutdown to help reduce fuel usage and save on operating costs.
The compactors also feature a compaction meter value (CMV), an accelerometer-based compaction measurement value system that gives the operator visibility to the compaction status. The technology measures the amount of energy the vibration system is putting into the material below the drums and measures the amount of energy coming back out. A relative stiffness value is then calculated and displayed.
Cat also offers the CB7, CB8 and CB10 tandem vibratory rollers. Caterpillar recently released new features on the 7- to 10-ton models to help customers achieve safety goals and train new team members.
The features include a front, rear and 360-degree camera system as an option. The tandem rollers also get new touchscreen displays to make the compactors easier to operate, which reduces training time for new employees, the company says.