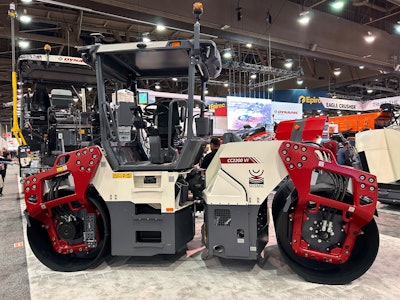 Equipment World
Dynapac has launched an 8-metric-ton tandem-drum vibratory compactor, the CC2200 VI, its first new-generation asphalt roller to get the company's Seismic technology found on its soil compactors.
Seismic automatically adjusts vibration frequency to match compaction needs on both drums, the company says. It monitors the variations in the surface and adjusts to changing conditions.
It also helps to save fuel and reduce vibrations and noise in the cab. Seismic is being rolled out on all of Dynapac's new VI generation mid-size and large rollers, starting with the CC2200 VI unveiled at ConExpo 2023.
The articulated CC2200 VI has a rolling width of 59 inches and runs on a 74-horsepower Deutz diesel engine. The compactor comes with automatic idling to lower fuel consumption and noise. Dynapac says the Tier 4 Final engine's Eco Mode can reduce fuel use by 20%.
Other new features include a 360-degree pedestrian-detection camera system that gives a bird's eye view of the roller's surroundings and alerts the operator to people nearby. Dynapac further increased operator visibility to the drum and spray nozzles by placing the water tank low in the front frame. The seat and steering module can rotate 90 degrees in either direction and has full sliding function. The operator gets a new 7-inch color touchscreen display.
Options for the CC2200 VI include an operator's platform with ROPS, a ROPS cab, automatic climate control and 225-degree seat rotation.
Dynapac also offers its Dyn@Lyzer system, which records and maps the asphalt mat's stiffness, temperature and the number of passes in real rime. "It additionally functions as a quality control and assurance device, as well as a production tool to optimize the compaction effort," the company says.
The roller's interface comes ready to connect to Topcon, Leica or Trimble aftermarket machine control systems.
The hydraulic system is compatible with biodegradable hydraulic fluid for those who choose that option.
Dynapac's new VI Generation of tandem-drum vibratory asphalt compactors spans models ranging from 16,980 to 19,845 pounds and 59 to 66 inches wide. Two others – The CC3200 VI and CO2200 VI will be articulated, and the CG2300 VI and CG3300 VI will be fixed-frame pivot-steer split-drum models.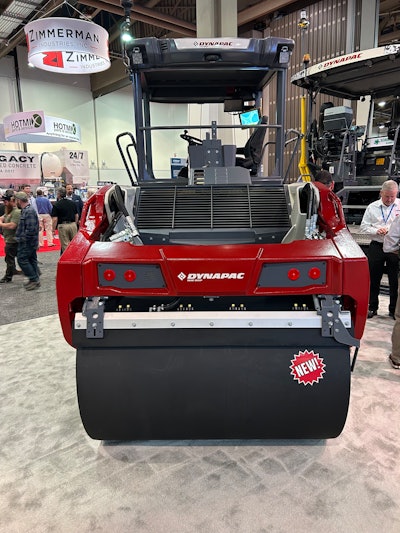 Quick specs
Operating mass: 17,400 lbs. (including ROPS)
Engine: 74-hp Deutz TCD 3.6 HT Tier 4 Final
Speed range: 0-7.5 mph
Centrifugal force: 57,380 – 49,420 lbs.
Nominal amplitude: 0.028 – 0.012 in.
Vibration frequency: 2,820 – 4,020 vpm
Water tank: 198 gal.