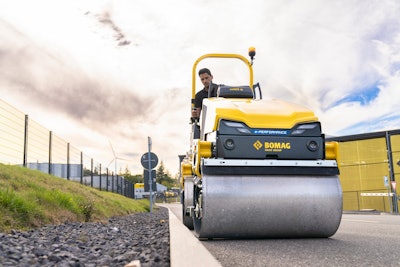 BOMAG
BOMAG continues to expand its ePerformance line of light electric compaction equipment with the new BW 100 AD e-5 tandem roller.
The 2.8-ton battery-powered compactor is designed for soil and asphalt compaction and patchwork and offers the same performance as its diesel counterpart, BOMAG says. It has a compaction width of 39 inches.
It is powered by two electric motors: one for travel and steering and one for vibration. When traveling, only the travel motor runs. The 48-volt electrical system recovers mechanical energy when braking and converts it back to electrical energy, the company says. It says the batteries can hold a large enough charge for a full day of operation. There is also an ECO function for further battery savings.
The permanently installed batteries can be charged at 230 or 400 volts by household socket, wall box of CEE plug. Charging cable adapters are optional.
Other features on the compactor include an articulated joint, spray nozzles protected from the wind and LED headlights to illuminate the area ahead of the drum. For the operator station, BOMAG added a soft response travel lever, compact steering wheel and high visibility to the work area and drum edges. A 5-inch digital display, compatible with the optional Economizer compaction measurement system, shows speed, current energy requirement, asphalt temperature, compaction progress, operating hours and battery charging capacity, duration and power.
BOMAG touts the electric roller as being ideal for urban, environmentally sensitive and indoor conditions where emissions and noise reduction are required. It also points to the machine's low maintenance – no fuel filters or engine oil to replace, no complex components such as gear boxes and, of course, no diesel fuel.
BOMAG Telematic is an option for real-time viewing by phone, tablet or computer of location and operating data. It delivers automatic reports on such information as idle time and optimization potential, and owners can view the roller's service history.
Quick specs
Operating weight: 5,512 lbs.
Working width: 39.4 in.
Max travel speed: 6.2 mph
Max working speed: 3.1 mph
Battery: 48-volt Li-Ion, 25 kWh capacity
Frequency: 3,900-3,360 vpm
Amplitude: 0.020 in.
Centrifugal force: 7,194-5,395 lbs.
Water capacity: 54.2 gal