Weiler
Weiler has launched two new commercial tracked asphalt pavers for 2023 – the 120-horsepower P385C and 74-horsepower P285.
The 22,000-pound P385C got a 20-horsepower increase in power over its predecessor, the P385B, with its new Cat C3.6 engine. Other features include an improved conveyor drive system, variable speed and reversible conveyors and augers, and a more reliable heat system, according to Weiler.
The company says the P285 got identical components but in a smaller package, weighing 18,000 pounds. Both pavers debuted at ConExpo 2023.
The P385C and P285 are designed for high production. The P385C gets a heavier front-mounted screed, at 3,700 pounds. It has a paving range of 8 to 15 feet 8 inches wide with its hydraulically extendable screed.
The 2,800-pound screed on the P285 can be hydraulically extended from 7 feet 8 inches to 15 feet.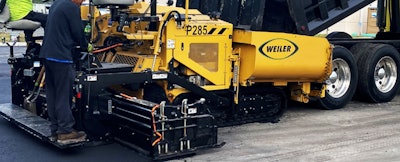 The undercarriage on the P385C is rated best in its class with its 90 inches of track length, according to Weiler. It has 68 inches of ground contact and a 140-millimeter track chain pitch for smooth ride and flotation. It also features automatic track tensioning.
The P285 undercarriage has a track length of 84 inches and can pave at 180 feet per minute.
Both feature highway-class chains, conveyor and auger bearings for longer life. Remote grease lines are located on the front of the counterweight for easier maintenance. The pavers also have a spray-down system with three coiled hoses on each corner and five engine access doors.
They both have three different operating positions for better visibility. The intelligent steering system features adjustable, magnetic resistance.
Weiler pavers are sold and serviced at Caterpillar dealers.
P385C specs
Weight: 22,000 lbs.
Engine: 120-hp Cat Tier 4F/Stage V
Height: 76"
Length: 14'8"
Width: 102"
Hopper capacity: 9 tons
Screed width: 8' to 15'8"
Paving speed: 150 fpm
Travel speed: 350 fpm
P285 specs
Weight: 18,000 lbs.
Engine: 74-hp Cat Tier 4F/Stage V
Height: 76"
Length: 13'
Width: 98"
Hopper capacity: 9 tons
Screed width: 7'8" to 15'
Paving speed: 180 fpm
Travel speed: 300 fpm