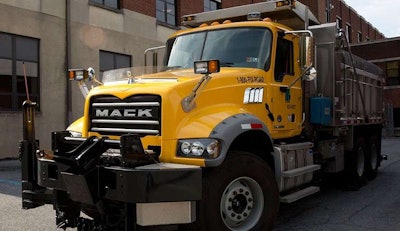 The Pennsylvania Department of Transportation (PennDOT) has added automatic vehicle location (AVL) to all of the plow trucks it owns and rents to be used this winter, making them viewable on the agency's www.511PA.com site.
The unit in each vehicle sends a cellular signal through the system indicating a truck's location and its activity.
PennDOT's AVL program first started in 2014 with 119 plow trucks, expanded to 700 vehicles last winter, and will now be on more than 2,200. It is part of Gov. Tom Wolf's GO-TIME initiative aimed at maximizing efficiency and modernization for each state agency.
The agency has a budget of $205 million for winter operations across the state, 4,800 on-the-road workers and more than 768,000 tons of salt available. In addition to the AVL system, plow trucks feature computerized salt spreaders able to control distribution of salt amounts no matter what speed the vehicle is traveling.
"Our equipment operators have an enormous amount of responsibility during a storm as they plow snow, monitor computers that control the flow of salt, monitor pavement temperatures, and keep their eyes on traffic and possible roadside obstacles," says PennDOT Sec. Leslie S. Richards. "We urge drivers to allow plenty of space to snow plow operators so they can perform their jobs effectively and safely."