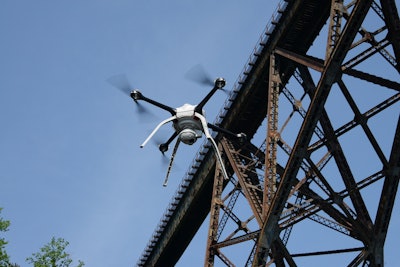 The Kansas Department of Transportation (KDOT) has started testing drones for bridge and tower inspections through the new Kansas Unmanned Aerial Systems program.
"Our Aviation and Bridge inspection teams are doing great work in testing drones to enhance the safety of KDOT workers and improve cost efficiencies," says Acting Transportation Secretary Richard Carlson. "We believe UAS may reduce the need to place our engineers in potentially dangerous situations and we intend to pursue every opportunity that makes them more efficient."
KDOT says this effort is the first in a series of planned programs that will use UAS technologies to improve public safety.
"It's important we keep safety and personal privacy our top priorities for this program," says KDOT's UAS Director Bob Brock. "KDOT inspectors working directly with UAS operators is an exciting first step that we will follow with many more flight tests to ensure we meet the stringent requirements associated with bridge inspection.
Earlier this year, a survey conducted by the American Association of State Highway Transportation Officials (AASHTO) showed state DOTs are increasing their use of drones for inspections and data collection. This in turn is having a direct bottom line result of cost savings.
The survey results, released in March, indicated that 17 state transportation agencies have studied the use of drones, while 16 were exploring drone usage, creating policies for drone use or were supporting drone research.
AASHTO's study showed using a drone for standard bridge inspection could cost as little as $250, compared to about $4,600 for a traditional inspection.